Megan Thee Stallion Joins Netflix's 'Big Mouth' for Upcoming Season 7
The streamer's longest-running animation returns on Oct. 20.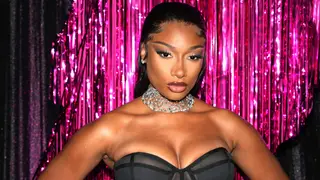 Megan Thee Stallion is joining the cast of Netflix's Emmy Award-winning series "Big Mouth"  for its seventh season as she takes on the role of a sexy hormone monstress. The streamer's longest-running animated show returns on October 20.
The "Savage" rapper's character, a shapely monster with horns and a long, flowing ponytail, appeared in the latest trailer, entering the show via a colorful mouth twerking and sliding down its tongue. "Aw s–t, booty badder den' a pear, your hormone monstress is here!" she says upon her entrance.
The "Bongos" feature artist joins several guest stars set to appear in season seven, including Lupita Nyong'o, Zazie Beetz, Billy Porter, Rosie Perez, Brian Tyree Henry, and a dozen more.
Megan Thee Stallion will also appear in A24's raunchy new comedy, "Dicks: The Musical." The Houston native is set to play Gloria, the boss of two business adversaries who realize they're identical twin brothers.
Megan shared the news with her "hotties" on Instagram, writing, "HOTTIES THIS IS OUR FIRST MOVIEEEE/ MUSICAL! WITH SOME MOVIE LEGENDS." She added, "Im so excited i feel so blessed i feel anxious lol i feel a bunch of shit. I really have been quietly putting in this work and i just cant wait for the hotties to see everything."
The project marks the rapper's debut in the film industry. The film will be released on September 29.