Raptors' Kyle Lowry Had This Hilarious Post-Game Interview With Drake
And Drizzy got caught on the team's jumbo screen pouring a drink.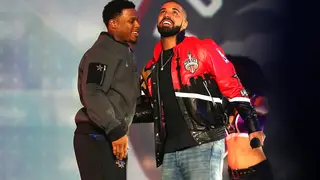 When Drizzy asked Lowry what prompted his best performance of the season, the All-Star point guard said, "I watched a lot of Instagram and I seen you singing last night, so, you kind of helped me out a little bit as motivation."
He added, fighting back laughter, "I didn't know you could sing still."
And the interview only got sillier from there. Take a look.
The "Hotline Bling" rapper — and Raptors' Global Ambassador — also provided witty commentary and was spotted pouring a drink on Air Canada Centre's jumbotron during the game.
We're sure that Kyle Lowry will never experience a postgame interview quite like that, unless Drizzy decides to play reporter again tomorrow night, when the Raptors host the Indiana Pacers.
BET Sports News — Get the latest news and information about African-Americans in sports, including weekly recaps, celebrity news and photos of your favorite Black athletes.