Offset Reveals He's In A 'Dark Place' Following Cousin Takeoff's Death
The admission comes after his wife Cardi B said she's been "trying to make him crack a smile."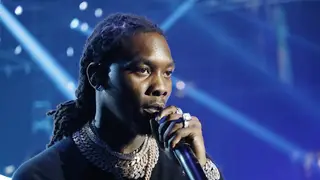 Offset is still mourning the loss of Takeoff and is letting everyone know how he feels.
Taking to Twitter on Thursday (December 8), Offset tweeted that he's "in a dark place," over his cousin's sudden death accompanied by a middle finger emoji.
Offset's tweet comes after the fellow Migos rapper was fatally shot on November 1 outside of a downtown Houston bowling alley. The latest statement also follows his wife Cardi B's revelation on Twitter that she's been struggling to make Offset feel happy during the difficult time.
"We living our life normally, but deep down inside our hearts have been so heavy," Cardi said in the since-deleted voice note. "I feel like if I talk about the incident so desensitized, I feel like if we talk about how we really feel or what m*****f****s really been going through, y'all will start saying, 'Oh, sympathy.' And we don't want no sympathy. We ain't no charity case. But no lie, I have been feeling so hopeless trying to make my husband happy."
Cardi also noted that the grieving process is still very real and is not "in the mood" to be "playing around" online.
"Trying to make him crack a smile, seeing him randomly cry, see him trying to distract his mind completely, schedules been changing, trying to keep up with work after everything that he's been going through these past couple of weeks," she said.
The shooting that caused Takeoff's death occurred during the early morning hours of November 1 at 810 Billiards & Bowling in Houston when an altercation broke out, resulting in gunfire, according to the Associated Press.  The Harris County forensics medical examiner's report states that the rapper died from "penetrating gunshot wounds to the head and stomach into [his] arm."