'It' Movie Review: 'One Of The Biggest Disappointments Of The Year'
The horror film is in theaters tomorrow.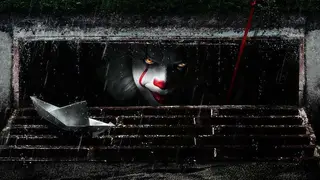 When the trailer dropped for It, social media blew up, creating hilarious memes — always a great sign of a possible box office success. It wants to be a cultural movement, The Shining, Carrie or Misery of its time, all films based on Stephen King novels. When I sat down to watch It, based on the epic book by Stephen King and a reboot of the made-for-television mini-series in 1990, I was seriously excited. As someone who loves horror and considering, outside of Get Out, there hasn't been a good horror flick in years, I was prepared to be blown away. My red balloon was quickly popped. 
The iconic book by Stephen King is over 1,000 pages, deeply layered and brilliantly merges sex, youth and horror. This version alleged stays true to the book, but any adaption of It to the big screen is risky (I am one of the few who believes the 1990 version was overrated). But director Andy Muschietti, who was behind the painful Mama from 2013, decided to give it a stab.
The downward spiral of It is swift and tragic. Within the first 30 minutes, it's clear the movie is less horror and more of a coming of age story that we've seen a billion times: A flock of kids discovering their identity in small town suburbia. They have abusive parents, endure bullies, labeled losers and have school crushes.
The terror is solely dependent on Pennywise, played by Bill Skarsgård. While his performance is incredibly strong, an overly CGI-ed killer clown who looks like a drag queen in need of a solid lace front just isn't scary in 2017. Similar to how the Nightmare Elm Street remake bombed, Freddy Krueger was only fearful for its time. Pinhead (Hellraiser), Michael Myers (Halloween), Jason Voorhees (Friday the 13th) and the other horror villains from the 1980s and early 1990s, just aren't scary today (this season's American Horror Story managed to reinvent the evil clown). The days of the super villain are long gone. Now, the villain is the government (The Purge) or racism (Get Out). Horror films need to be smarter, especially with the over-hype It is receiving. Even the scares were vintage, cheap horror tricks: blood shooting out of a bathroom sink, headless ghosts in a library basement, or kids aimlessly wandering through a haunted house. Yes, these scenes are based on the book, but It's poor execution of every scare trick possible had the audience I saw the film with laughing more than screaming.
While the movie is packed with young, seriously talented actors, who will probably have long careers, It doesn't resonate. It's a messy mix of Nightmare on Elm Street meets The Goonies and that isn't a compliment. Many critics are praising It for strong acting, funny one-liners and cinematography, but I doubt the average movie goer will feel the same punch, especially if they are expecting horror. It is one of the biggest disappointments of the year.
Watch the cast of Get Out in the video, above.