SMH: Here's the Alleged Reason Kim Kardashian Won't Let Her Kids Play With Blac Chyna's Son
We hope this isn't true.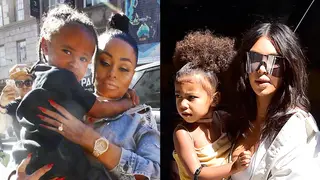 According to an insider source, Kim Kardashian has been purposely keeping her children at a distance from Blac Chyna and Tyga's son, King Cairo. The alleged reason why is a little concerning, especially if it checks out to be confirmed.
A source recently told OK! Magazine that Kardashian "cringes" whenever King is around, and has some strong opinions about how the child behaves.
"Kim cringes whenever King comes crashing through the door of the family home," the insider shares. "She thinks he's a bad influence on her kids North and Saint."
The source then further elaborated, adding, "They're royalty compared to Chyna's boy. King has a potty mouth just like his mom. He doesn't have table manners either. It's sad because it's not King's fault."
Pretty harsh if you ask us.
Tyga has previously acknowledged his son's foul language, resulting in the rapper making a conscious effort to not play his music around the 3-year-old. However, it appears as though that isn't enough to score a playdate with the West-Kardashian squad.