The M.O.R.A.N.T. Manifesto – A Six-Point Plan To Help Ja Morant Finally Get It Together
Opinion: The Memphis Grizzlies star point guard is in hot water again, for the same thing as last time. He hasn't learned, so maybe we can help him.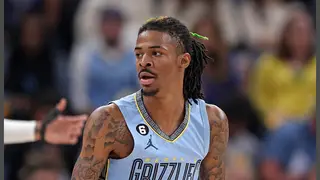 While the NBA's Eastern and Western Conference finals have their own major storylines, an even larger one continues to percolate as we all are witnesses to the latest installment of, "What the hell were you thinking, Ja Morant?"
He spoke on Tuesday night for the first time since he was caught on video - on Instagram Live again - holding a gun.
"I know I've disappointed a lot of people who have supported me," Morant said in a statement. "This is a journey and I recognize there is more work to do. My words may not mean much right now, but I take full accountability for my actions. I'm committed to continuing to work on myself."
The first time he was caught on camera with a gun, it cost him eight games.
The Memphis Grizzlies have suspended him indefinitely from all offseason, team-related activities.
But that's not gonna cut it this time.
By the sound of NBA commissioner Adam Silver's tone, folks looking forward to cheering on Ja Morant next season might have a long wait ahead of them.
"I was shocked when I saw this weekend, that video," Silver told ESPN from the NBA's draft lottery Tuesday in Chicago. "The video is a bit grainy and all that, but I'm assuming the worst."
Morant needs help, for sure. So maybe we all can help him.
Which is why we have what we'll call the M.O.R.A.N.T. Manifesto, a series of steps that if implemented properly, may very well be the elixir needed to cure the ills of a career that's sinking fast.
M – Make a new, redistricted inner circle: What's that old saying? You are the company you keep. The company that Morant has kept close is costing him millions. No one is asking him to disavow any knowledge or relationship with longtime friends. But the NBA is a business, and Ja and the folks he's keeping close, simply put, are not good for business; his or the NBA's for that matter. Real simple solution. Redraw that inner circle so that those on the inside, actually aid and assist growth and those on the outside, stay on the outside. It's not easy, obviously. But at some point, Ja has to decide which matters, his growth as a man and a leader in the NBA, or flashin' a gun for IG?
O – Owning up to the need for real help: When Ja Morant was suspended for eight games earlier this year after brandishing a gun, he said all the right words afterward. He talked about his work with therapists and how that was helping. Words have no value with him anymore; it's about his actions. And right now, those actions need to not only talk of needing help, but getting it for an extended period of time. Because by the sounds of Commissioner Adam Silver, don't be surprised if one of the conditions for his return to play will involve therapy - extensive therapy that can't be completed in a week or two.
R – Restoring corporate faith: One of the most telling moments from all the commentary following Ja Morant's latest misstep, came from veteran broadcast journalist and ESPN personality Michael Wilbon who said Morant's shoes are a no-go in his home now. "I told (my son), in my house, you can't have that shoe. I'm not buying that shoe; you're not buying that shoe. Our money as a family is not going toward that. And I'm not the only one who is going to feel that way." He's right. The financial hits will keep coming from corporate America (Powerade and Nike are likely to chime in at some point; and what they say probably won't be music to Morant's ears) until Morant starts to change his actions and do so for an extended period of time.
A – Affirming his role as a leader: There is no doubt that the Memphis Grizzlies are led by Ja Morant. But his actions raise legit questions about whether he's fit for the role. Rather than focusing on the team's success as one of the better teams in the NBA this season, much of the attention was on Morant and his off-the-court drama. Restoring confidence with the fans and his teammates that he's all-in, has to be part of the healing process going forward.
N – Nail the PR Game: The interview Ja Morant did with ESPN's Jalen Rose after his first suspension earlier this season, addressed some of the questions raised by Morant's actions. Chances are good that he'll do a similar interview at some point after the league weighs in with some form of punishment on top of what the Grizzlies have done. Figuring out the right balance between presenting Morant as being contrite without alienating folks is not going to be easy. But Morant's camp has the benefit of time on its side to figure something out.
T – Taking time to recalibrate: With what's likely to be a pretty long suspension, Ja Morant would be wise to use that time to get stronger, mentally and physically. Having a longer-than-usual offseason should lead to him being a significantly different-looking player when he returns. Because of the pounding he puts his body through, having some time to bulk up without games to be played, will do him some good. And the mental aspect is one that can't be overlooked or taken for granted. He has talked about the value of therapy. For his sake, let's hope that this second time around being suspended will provide him enough time to really focus on his self-improvement, both mentally and physically.