Ja Morant's Powerade Ads Pulled Amid Gun Controversy
The Grizzlies guard signed a multi-year deal with the Coca-Cola company that could be in jeopardy.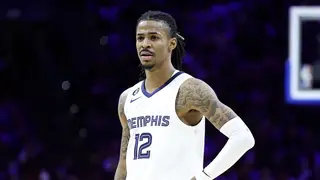 Powerade pulled its upcoming ad campaign with NBA star Ja Morant and removed his image from its social media content, NBC Sports reports.
The ad deal is on hold, at least, for now. It's unclear whether Powerade, owned by Coca-Cola, will terminate its multi-year endorsement deal with the Grizzlies guard. But college hoops fans won't see him in a series of commercials that were set to go live ahead of the NCAA's March Madness college basketball tournament.
This is the latest fallout from an Instagram Live post of Morant flashing a gun. In the video, the 23-year-old NBA All-Star was seen shirtless and rapping to music at a nightclub on March 4, while holding a handgun in his left hand.
His troubles run deeper. Last summer, Morant was accused of involvement in threatening a Memphis mall security officer and assaulting a teenage boy, The Washington Post reported.
Morant's deal with Powerade included TV commercials, billboards, store displays and events for the brand's relaunch, according to Bloomberg. The ads would have launched Powerade's largest marketing campaign in its 36-year history.
After the video incident, the NBA said it launched an investigation, and the Grizzlies suspended their star player. He was expected to miss at least six games.
Morant apologized in a statement posted to his Instagram account, saying he takes "full responsibility for his actions" and planned to "take some time away to get help."
Meanwhile, Nike, which has a signature shoe line with Morant, decided to stick with the troubled athlete.
"We appreciate Ja's accountability and that he is taking the time to get the help he needs. We support his prioritization of his well-being," Nike said.