Ja Morant Suspended After Allegedly Flashing Another Gun On Instagram; Backlash Follows
Backlash Follows Ja Morant Suspension After Allegedly Flashing Of Gun On Instagram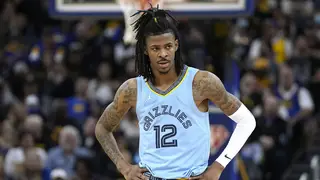 Memphis Grizzlies star Ja Morant has been suspended from all team activities for allegedly wielding a gun while a passenger in a vehicle on Instagram Live, according to CBS Sports.
On Saturday, the All-Star guard appeared on Davonte Pack's Instagram Live where he appeared to flash a handgun with NBA YoungBoy playing in the background.
The Memphis Grizzlies released a statement in response to Morant's latest incident.
"We are aware of the social media video involving Ja Morant," the statement read. "He is suspended from all team activities pending league review. We have no further comment at this time."
Mike Bass, an NBA spokesman added, "We are aware of the social media post involving Ja Morant and are in the process of gathering more information," Mike Bass, an NBA spokesman said.
"I take full responsibility for my actions last night," Morant said. "I'm sorry to my family, teammates, coaches, fans, partners, the city of Memphis, and the entire Grizzlies organization for letting you down. I'm going to take some time away to get help and work on learning better methods of dealing with stress and my overall well-being."
Glendale Police in Colorado investigated the incident but said "there was not enough available evidence to charge anyone with a crime."
Nike, who had recently launched Morant's signature shoe, released a statement: "We appreciate Ja's accountability and that he is taking the time to get the help he needs. We support the prioritization of his well-being."
Powerade, which is owned by Coca-Cola, pulled ads featuring Morant that was scheduled to run during that NCAA March Madness tournament because of the controversy.

After this latest incident, ESPN commentator Stephen A. Smith seemed to express the same perspective that many basketball fans had after hearing about it.
Following the Grizzlies' elimination from the first round of the playoffs at the hands of the Los Angeles Lakers, Morant admitted that his off-the-court troubles were one of the root causes of his team's demise.
"I've just got to be better with my decision-making," he said after a 125-85 loss to the Lakers on April 28. "That's pretty much it. Off-the-court issues affected us as an organization pretty much. Just [need] more discipline."