Kevin Durant's Achilles Injury Was So Bad It Temporarily Ended The Warriors Rivalry With Drake
After GSW's bittersweet Game 5 win, the Canadian rapper and others shared touching tributes to #35.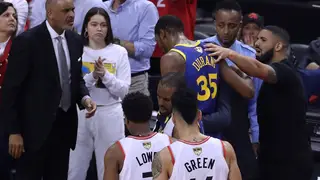 As the NBA Finals matchup between the Golden State Warriors and the Toronto Raptors heats up, the rivalry between the entire Warriors team and Drake has followed suit. However, when Warriors guard Kevin Durant returned after an injury break in Game 5 just to face a season-ending Achilles tear in the first half, no one seemed more devastated than the Canadian rapper.
With just 9:45 left to play in the first half, Durant attempted to drive to the basket, but ended up on the floor. Durant was seen grabbing his leg in pain before Warriors trainers assisted him off the court.
While he was being led to the locker room, cameras caught a visibly upset Drake offering support for Durant.
In the end, the Warriors still ending up clenching a close victory with a score of 106-105. After the game, Drake posted a special tribute to Durant on Instagram.

"Was tough for any of us to even enjoy that game tonight after seeing this transpire. Praying for our brother," he posted with an image of Durant. "My only concern tonight is your wellbeing. 'The game needs me' is an understatement when it comes to 35. Please wish the best for this true warrior."

Other athletes and fans of basketball also shared their messages of encouragement for Durant, who many believe made a large sacrifice to play in the game.

During an emotional post-game press conference, Golden State Warriors general manager Bob Myers said while there's no one to blame in this situation, he would accept responsibility for the injury.

Durant also posted an Instagram story that said while he is hurting from his injury, seeing the Warriors take home the win gave him "new life."