Gabrielle Union And Dwyane Wade Don't Let Their Kids Believe In Santa Claus
Their reason is relatable AF.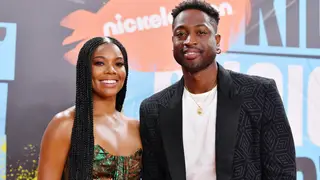 With the holiday season just around the corner, most of us are starting to look forward to turkey, trees, gifts and annual traditions. Gabrielle Union and her husband, Dwyane Wade, however, have a few ground rules when it comes to celebrating Christmas. The Being Mary Jane star admits her husband refuses to allow their children to believe in Santa Claus, and their reasoning is certainly nothing strange to Black families everywhere.
"I'll say to my husband, 'Let's tell the kids their Christmas gifts are from Santa,'" she said in an interview with Oprah Magazine. "And my husband is like, 'There's no way in hell I'm letting these kids think that old white man is sneaking into our house and doing anything for them.' Because he didn't grow up believing in Santa Claus."
The couple shares 10-month-old daughter Kaavia James while the NBA superstar has sons Xavier Zechariah, 5; Zion Malachi Airamis, 12; and daughter Zaire Blessing Dwyane, 17, and nephew (whom he has legal guardianship over) Dahveon, 17. With so many kids to raise, the actress adds that they have regular conversations about their child-rearing methods.
"We have these conversations when it comes to raising our children about where to draw the line between fantasy and, 'Hey, that's not how life works,'" she added.
Santa Claus or not, we're sure there's plenty of magic to go around the Wade household all year round.