Jeannie Mai Says Her Relationship With Jeezy Taught Her 'Responsibility' Of Dating A Black Man
"Not everybody's experience is the same."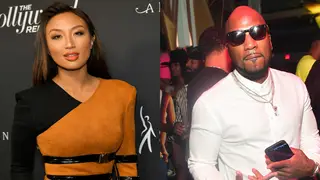 Jeannie Mai's new relationship with rapper Jeezy was met with both positive and negative reactions from fans. In fact, past comments the The Real co-host made about her dating preferences resurfaced after they went public as a couple, leading to social media outrage.
During a recent interview on Big Boy's Neighborhood, Mai, however, said her love for Jeezy taught her that she has a specific "responsibility" to her man.
"He's introspective, he's passionate, he's incredibly deep, he's a visionary, he's a great leader, he's an amazing servant to his community," she said of the rapper. "I think when you look at the word 'interracial,' you should really look at it as 'interresponsible.' It is a responsibility when you date outside of your race to learn about that culture because not everybody's experience is the same."
Mai added that while she is taking her own advice to heart, it also applies to him in respect to her culture as a Vietnamese-American.
"When he steps into my house, he takes off his shoes. He knows how Vietnamese people do it," she said. "When I met him, I was like, 'I want to go to Hawkinsville [Georgia]. Show me exactly this yellow house that you grew up in, and how did you start your business and how did you understand how to make a dollar.' I actually loved it."
Take a look at the full interview, below:
As previously reported, the talk show host gushed about the interesting "homework assignment" Jeezy gave her on their epic eight-hour-long first date. It looks like things are going pretty well with these two.