Bishop Eddie Long Has Died
The megachurch pastor had been battling "an aggressive form of cancer."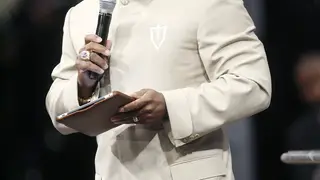 UPDATE: The news of Bishop Eddie Long's death has been confirmed by the Atlanta Journal-Constitution.
The New Birth Missionary Baptist Church, of which Long was the longtime senior pastor, issued a statement on his passing, confirming speculation that he had been battling cancer:
"New Birth Missionary Baptist Church celebrates the life and legacy of Bishop Eddie L. Long who is now spiritually healed and home with the Lord. Bishop Long, Senior Pastor of New Birth, transitioned from this life early Sunday morning after a gallant private fight with an aggressive form of cancer. As a man of God with unyielding faith, Bishop Long maintained his commitment to our Heavenly Father as he proclaimed that cancer would not kill his faith nor his spirit. First Lady Elder Vanessa Long, Bishop Long's wife of 27 years offered the following. 'I am confidant through my belief in God that my husband is now resting in a better place. Although, his transition leaves a void for those of us who loved him dearly, we can celebrate and be happy for him, knowing he's at peace.'"
Long was 63 years old. Our condolences go out to his family, friends and church community for this loss.
Sad news out of Atlanta.
Bishop Eddie Long, longtime pastor of the New Birth Missionary Baptist Church, has reportedly died. According to multiple sources, Long passed away on Sunday. Rumors of ill health had been following Long for several months, but intensified a couple of weeks ago when he resurfaced in public looking shockingly thin.
While the news has yet to be confirmed in an official statement from Long's family or representatives, many from the New Birth community have been tweeting about it on Sunday morning and Byron Cage, gospel singer and longtime church member, appeared to confirm the sad news himself:
Again, while nothing has been confirmed, some are speculating that Long had been battling cancer. He tweeted a message to his followers on Saturday:
This story is developing...