A Dream Deferred: The Making Of The Nation's First Black Woman Supreme Court Justice
As Judge Ketanji Brown Jackson's Supreme Court confirmation hearings continues, the Dean of Boston University School of Law describes what this moment means to her.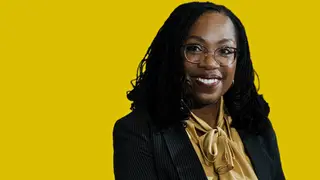 If you're having a hard time believing this statement, consider the story of  11-year-old Maddison Morgan, a young Black girl who lives just minutes away from the Supreme Court in Washington D.C. Weeks ago, after learning about the appointment process in her Social Studies class and hearing about President Joe Biden's promise to nominate one of the many well-qualified Black women options to the Supreme Court, little Maddison shot her best shot. She wrote to the President and asked him to appoint her to the bench and enable her to give children a small voice in our society.
Maddison was able to envision herself as a Supreme Court Justice in part because President Biden, the most powerful leader in the world, "saw" her and other Black women and girls, noting and acknowledging our talents. This President recognizes the importance of including our insights on one of the most critical institutions in the country. Through his actions, President Biden had, as Justice Ruth Ginsburg once proclaimed, made plain that it should be "natural and proper" for a Black woman to sit on our nation's highest court.
And, it's important not only for young Black girls like Maddison to see justices like Associate Justice Ketanji Brown Jackson as "natural and proper—just how it is" on the Supreme Court, but also for little kids and adults of all backgrounds to have their unstated, unconscious image of what a justice looks like disrupted. For 233 years, that image has never been challenged in a way that includes Black women. As the experience of Judge Bernice Donald, the first Black woman to ever serve as a judge in the state of Tennessee and ultimately the first to sit on the U.S. Sixth Circuit Court of Appeals, reveals that lack of intersectional race and gender representation among jurists can be damaging, reinforcing racist and sexist images about who is even entitled to become a jurist in our legal system.
Back in 1982, when Judge Donald was first running for a state court judge position in Tennessee, a young woman sitting in the waiting room proclaimed to her: "You don't look like a judge." As Judge Donald explained during a Black History Month lecture at Boston University School of Law, there was no malice in the woman's heart when she made the statement; she was simply asserting what she had seen, or rather what she had not seen, in courts throughout her whole life. Still, the statement reflected her implicit or unconscious biases concerning the abilities of Black women, biases that have long played a role in excluding far too many Black women from service on courts and other significant institutions.
Now, the time has come for us to put an end to how these unconscious (and, sometimes, conscious) beliefs have long dampened the conscious dreams of Black women and girls who desire to see themselves reflected on our courts, specifically on our highest court.  More than 70 years ago in 1951, Langston Hughes, one of the artistic geniuses from the Harlem Renaissance, poignantly asked us in his poem "Harlem" What happens to a dream deferred?
Like a raisin in the sun?
Does it stink like rotten meat?
More than 40 years ago in 1981, the dream of the first Black woman Associate Justice on the Supreme Court of the United States was deferred when President Ronald Regan decided not to nominate Judge Amayla Kearse, who was on his shortlist for the Court (and who, in later years, appeared on the shortlists for Presidents Bush and Clinton). Back then, President Reagan decided to pass over Judge Kearse, the first Black woman to be appointed to a federal appellate court, to instead nominate Justice Sandra Day O' Connor, who was then serving on the Arizona Court of Appeals. 
This month, 232 years after the Supreme Court of the United States was founded and 40 years after Judge Kearse was first considered for the high seat, I, and so many others of all backgrounds across the country, are anxious to see what happens when a dream is finally realized.
---
Angela Onwuachi-Willig is Dean of Boston University School of Law and a noted scholar of critical race theory. Onwuachi-Willig is the first Black woman to lead a top 20 law school and holds the nation's first endowed professorship in critical race theory.