Pressure Mounts For Sacramento PD To Explain Why The Cop Who Shot Stephon Clark Muted His Body Cam
The footage has created a rising tension between the police and the community.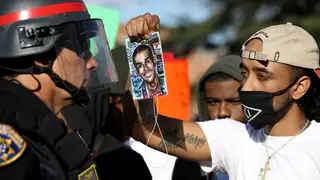 As the investigation continues into the shooting of 22-year-old Stephon Clark by two officers with the Sacramento Police Department, many are demanding to know why one of the officers muted the audio of his body camera.
Chief Daniel Hahn has addressed the muting of the camera and has even admitted that the actions "builds suspicion" in the community, reported KCRA.
"Any time there is muting on this camera, it builds suspicion, as it has in this case," Hahn told KCRA. "And that is not healthy for us and our relationship with the community."
"It might be perfectly fine, but because it was muted, there will always be that suspicion," he added. "So that's something we have to look at."
Hahn also said the releasing of the videos has added some misconceptions to the way the case is being viewed by the public. 
"That's a common misperception is that he was shot because he was breaking into cars. If an officer shot somebody for breaking into cars, that would definitely not be a justified shooting," Hahn told KCRA. "They have to have reason, at the moment, that they felt that their life, or somebody else's life, was in danger to do that. It's just what got them on the street, was the original call. It would not be justification to shoot him in the backyard."
Clark was approached by officers after they received a call that someone was breaking into cars. When they found Clark in the backyard of his grandparents' home, the officers called for Clark to stop and show his hands. Seconds later, one of the officers shouted, "gun, gun, gun." The officers then opened fire on Clark, firing a total of 20 rounds, Sacramento police said.
Clark was pronounced dead at the scene and the only item found near Clark was a cell phone. No gun was retrieved.
"This is a tragic event for the entire community," Hahn said.
Although Hahn refused to make conclusions about the case, he said the department will release the details of the investigation as they become available. The investigation into the shooting is ongoing and they are still waiting for the coroner's report and other details.