Revamp Your Makeup Routine with Ziwe's Fresh Looks
The comedian's beauty and fashion sense is no joke.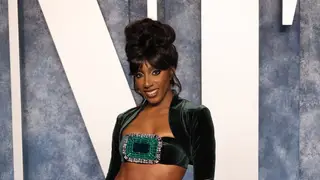 Every day, glam girls worldwide sit in front of their vanity mirrors and remind themselves of how damn fabulous they are. This daily affirmation comes naturally for Ziwe as she did her beauty routine Vanity Table Talk from e.l.f. Cosmetics. Foundation and concealer weren't needed for Ziwe to show the best side of herself. The talk show host didn't hold back from sharing her witty sense of humor, "You guys are putting me to work already!" She said while casually beating her face. We hear you, girl! Beauty routines are hard work, and we're all tired! Since we believe hard work should be rewarded, here are all the times Ziwe's beauty routine made us say, "Werk!"
2023 Vanity Fair Oscar Party

Ziwe's sultry Vanity Fair look was hitting hard on the red carpet. Her makeup look was an absolute chef's kiss this night! Her matte makeup look was taken to new heights with hints of gold and deep green eyeshadow to complement her sexy emerald two-piece dress. The messy top bun was also a nice switch-up from the pinned straight hair she typically wears. We give this an A++!

Paris Fashion Week - Mugler

Model behavior is the whole mood board for this look! The comedian rocked the runway for Mugler during Paris fashion week and did not fail us! She walked the show in an all-black lace look, but the makeup was what had us in a chokehold. Ziwe sported a black lip, a bold smokey eye, and a snatched ponytail.

2022 Harpers Bazaar Event

Ziwe is living in color with this stunning beauty look. The Bottega Veneta multi-color dress was the inspiration for her beauty look. Her makeup was the perfect palette of golds, reds, and pinks, nearly mirroring her clothing. If there's one thing we appreciate about Ziwe is that she is not afraid of color.

Ziwe Being..Well..Ziwe

Is it just us, or are we all mourning that Ziwe's talk show is no longer? She never failed to serve us looks while pressing her guests with anxiety-ridden questions for our enjoyment and their reflection—we miss you, Queen! Her hot pink color was pre-barbie core was hot attitude.

White House 2022

Wavy bob. Bare shoulders in a sleek black gown. Naturally nude makeup and glowy skin. The perfect ingredients for a classically beautiful and flawless look.