6 Trendy Short Hairstyles To Try This Summer
Feeling the heat? These looks can inspire your next chop!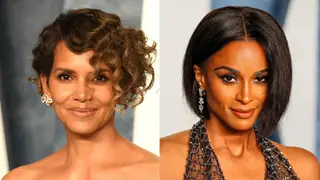 Simply, it's too hot for hair! Short hair is the wave this summer, with many celebrities opting for a new look. As scary as it may seem to chop off your hair after many deep conditioning sessions, regular trims, and seeing hair growth progress, it can also be liberating!
Here are a few celebs showing us how it's done, so save these looks for your next hair inspo! 
Halle Berry

Halle Berry has been rocking this short blonde look lately, and we can't get enough of it! A tight crop on the sides with slightly longer locks in the middle. This asymmetrical bob is perfect for looking fierce when the temperature is up.

Ciara

Another short blonde bob is coming at you, hot! Ciara's sleek cut sits chin level, giving you all sass and seriousness. If you're not ready to commit to anything "too short," this bob is a perfect medium. Rock it straight or wavey, depending on your mood.

Tiffany Haddish

Tired of hair altogether? Chop it all off and get yourself some finger waves instead, like Tiffany Haddish. This low-maintenance hairstyle will allow you to live your easiest hair life! Get up and go without worrying about prepping the night before. This look works for any season and trend. 

Lori Harvey

Lori Harvey is giving true old-money vibes with this bob. We love it for its fierce swoop at the ends and versatility. There is also room to wear a middle or side part and long enough for a low ponytail. The possibilities are endless. 

Amber Rose

This wouldn't be a proper "short hair-inspired article" without talking about Amber Rose. She made us all fall in love when we saw her wearing her now iconic low-cropped hairstyle. Since then, she has continued to be all our girl crushes by looking sooo good with this hairstyle! 

Elisa Johnson

Bangs are sometimes just what you need to take your look next level and Elisa Johnson is working this short style. Who said short hair had to be boring? This is a fabulous option for an effortlessly sexy look.