Oprah Responds to Backlash Over 'Hopeful' Trump Comments
The big O wants you to know exactly what she meant.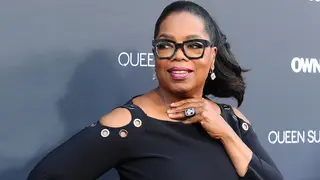 Whatever Oprah says is usually considered the holy grail, but recently, when she tweeted a photo of President-elect Trump and President Obama paired with the words "Everybody take a deep breath! #HopeLives," many gave her the side-eye. In fact, folks on social media slammed the mogul for normalizing Trump. Now, during a Q&A with Ava DuVernay, she explained her comment more in-depth.
"Y'all heard about my tweet problems?" she reportedly told the crowd, according to Entertainment Weekly.
"This is the second time I've had tweet troubles," she said. "And it's the same lesson, so Jesus, I hear you. You don't have to tell me again... I couldn't breathe after the election. I was expecting tension, awkwardness, and strain. So when I saw them sitting together, I actually took a picture of that screen that said, 'President-elect Trump honored to meet Obama,' and President Obama was being so gracious, and I heard Donald Trump say, 'He's a good man.'"
"I heard Donald Trump say, 'I'm going to be seeking his counsel,'" she continued. "I literally went [deep breath], I can breathe now."
In conclusion, she added that her wording may have been off, clarifying what she meant to say.
"My mistake, and this is what I know to be true: you can never talk about everybody," she said. "Even in your arguments with your husband and your children. Don't talk about what you should do, what you ought to do — you can only speak for yourself. So what I should have said was, 'I just took a breath.' What I said was, 'Everybody take a breath — #HopeLives.'"
Recap the moment Trump won the presidency in the video, above.
BET.com is your No. 1 source for Black celebrity news, photos, exclusive videos and all the latest in the world of hip hop and R&B music.