Boosie Shooting His Shot At Rihanna Is The Most Hilarious Thing On The Internet Right Now
"Boosie not lettin' up on Rihanna..."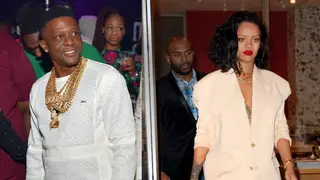 Among hitting the lotto and his personal selection of private jets, Baton Rouge rap star Lil Boosie has the bad gal Rihanna on his celebrity wishlist, which he hilariously shared with The Bumbu Room. 
Boosie's revelation doesn't come as too much of a surprise considering the number of times he's admitted to sliding in Rih's DMs and his public proclamation of his infatuation with her. For his most perfect day ever, however, she'd be the cherry on top after he explains how that day would like him hitting a nearly-billion dollar lottery then receiving a call from the Barbadian songstress, fashion and beauty icon. "Rihanna call the phone," he says in his description of his best day ever before giving his most hilarious RiRi impresision. "'Congratulations on your victory. Good job, Boo.' I hit up bae. 'Man, let me fly you out man. For real, man. I'm f**ked up without you RiRi.' And she just fall right there: 'Of course.' I f**k it up. Ya heard me?" He then goes on to explain how he'd book a private jet for himself and a separate one for the Fenty beauty mogul with some rather explicit details on his time he'd like to spend with her. That is, before deeming her the kids' new "step momma." 
And Boosie's quite serious, but enthusiastic, description of such big dreams has the internet screaming in laughter: