Ciara And Russell Wilson Visit Maximum Security Prison In Miami
The couple prayed and sang with more than 300 incarcerated individuals.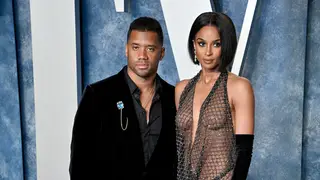 Ciara and Russell Wilson recently spread some joy to 300 incarcerated people at Everglades Correctional Institution in Miami, Florida.
According to TMZ, the trip was facilitated by the organization God Behind Bars, which "[connects] prisoners and their families to Christ by connecting them to the local church," their Instagram bio states.  According to a post from God Behind Bars, "27 incarcerated men gave their lives to Jesus inside of a maximum security prison."
The post continued, "The voices of the incarcerated were so loud, it felt like it could be heard by the entire prison. In a place so easily filled with so much division, there was a moment where Incarcerated men put their arms around each other and prayed for those struggling with anxiety and depression."

See the clip below of Ciara and Russell Wilson singing with the inmates.