Bobby Knight, Legendary College Basketball Coach, Dies at 83
The Hall of Fame coach won three national championships in 29 seasons as the Indiana Hoosiers head coach.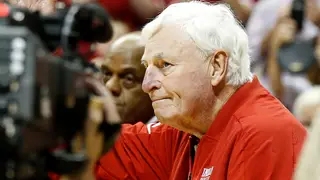 Bobby Knight, the legendary yet controversial coach who led the Indiana Hosiers to three national championships in 29 seasons, has died, CBS News reports. He was 83.
After struggling with his health for the last several years, Knight's family announced his passing on Wednesday (November 1) night.
"It is with heavy hearts that we share that Coach Bob Knight passed away at his home in Bloomington surrounded by his family," the family's statement read. We are grateful for all the thoughts and prayers and appreciate the continued respect for our privacy as Coach requested a private family gathering, which is being honored."
"One of the things that he said to our 1976 team, which I was fortunate enough to be a part of, was that you may never see another team like this again," Indiana University board of trustees chair and one of Knight's former players, Quinn Buckner added in a statement. "Well, I don't know that we will ever see another coach like him again."
Born Robert Montgomery Knight on Oct. 25, 1940, he played basketball, baseball, and football at Orrville High School. After playing in a reserve role at Ohio State University, Knight launched his coaching career as an Army assistant and then quickly became head coach. From 1965 to 1971, he posted a 102-50 record.
Knight became head coach at Indiana in 1971 and immediately turned the Hoosiers into a national powerhouse.
Donning his signature red sweater and fierce scowl, the Hoisers went 662-239 in 29 seasons. He won national titles in 1976, 1981, and 1987. His 1975-76 Indiana team remains the last Division I men's team to go undefeated.
Knight held the record for most college wins until Mike Krzyzewski whom he coached at Army, surpassed him in 2011.
Along with Buckner, Knight coached Scott May, Mike Woodson (the current head coach of Indiana), Isiah Thomas, Calbert Cheney, Allan Houston, and many more who went on to play in the NBA.
During an era when college coaches were stars in their own right, Knight stood out for his motion offense and his sideline antics; on one occasion, he even threw a chair in full disgust at an official in the middle of a game. In his three decade career, he went up against some of the greatest coaches of all time, including John Wooden, Dean Smith, John Thompson, Krzyzewski, Rick Pitino, and Roy Williams.
"We lost one of the greatest coaches in the history of basketball today. Clearly, he was one of a kind," Krzyzewski said. "Coach Knight recruited me, mentored me, and had a profound impact on my career and in my life. This is a tremendous loss for our sport, and our family is deeply saddened by his passing."
As successful as Knight was at Indiana, his controversial behavior always drew headlines.  He headbutted Sherron Wilkerson, his own player, as he yelled at him on the sidelines; he was accused of choking Neil Reed during practice; he was photographed pretending to whip Cheaney, and he made deplorable comments about women who were victims of rape.
Following years of controversies, Knight was fired from Indiana and would go on to coach at Texas Tech from 2001-08 where he amassed a record of 138-82 record. Knight did not return to Indiana for several years but in February 2020, he came back to Assembly Hall to a sold-out crowd and was greeted by many of his former players.
Woodson paid tribute to Knight in a post on X (formerly known as Twitter) on Wednesday night.
"My thoughts and prayers go out to Coach Knight's family and all who loved him. He influenced my life in ways I could never repay," Woodsong wrote. "It is a very sad day for all of us who loved him."