Trump Voters Think 'Racism' Against White People Is A Problem. Really?
Opinion: A new poll shows just why we're left without optimism for full reparations in America.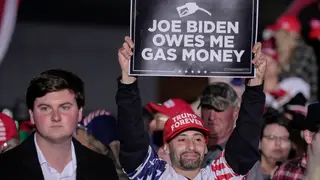 Want some unmitigated gall to go with your morning coffee…?
A new Yahoo News/YouGov survey revealed just how Donald Trump-voting White people feel about Black folks' sustained efforts to deal with and reconcile the country's tainted history and insidious continued existence of racism.
It went about how you might imagine it would.
In the survey of 1,638 U.S. adults conducted earlier this month, 62 percent of voters who backed Trump in 2020 agree that racism against Black Americans is a problem in 2023 — but 73 percent of them say that racism against White Americans is also a problem.
Of those same voters, just 19 percent describe racism against Black Americans as a "big problem." But 37 percent – more than twice as many of these clowns – say racism against White Americans is a "big problem."
It should come as no surprise that Trumpers are more disinclined to acknowledge racism against Black people as a problem in the United States. This is the "post-racial" "We elected a Black president so what's the problem?" contingent that'll also try to convince you that "they" implanted a tracking chip in the COVID-19 vaccines.
To suggest that racism is no longer a blight on America because we're not in chains and no longer have "Whites only" water fountains is willful ignorance and might indicate a failure to pass seventh grade.
But "racism" against Whites suggests that the surveyed exist in some alternative dimension altogether. First, I very much subscribe to the "prejudice plus power" idea, meaning racism requires the power dynamic to exist; Black people can be (and often are) prejudiced a**holes to other races, but we can't be racist.
Any concern that there's a substantive threat to white people "losing" power in America anytime soon is easily dispelled by looking at the leadership makeup of Fortune 500 companies, Congress and the fact that we love keeping old White men who freeze up at mics in power. Because, apparently, we associate power in America with Anglo-Saxon frailty.
Mind you, demographics in America are shifting away from a White majority, so perhaps these white Trump voters are terrified of the writing on the wall. But White supremacy is baked into the fabric of our society, and I don't see it going anywhere in my lifetime.
The survey also reminded everyone that we're more likely to get a squared circle before we see reparations for Black people: 62 percent of Trump voters believe that Black people shouldn't receive reparations because "racism is no longer holding Black Americans back."
It was conducted on the heels of the Jul. 9 dismissal of a district court lawsuit in Oklahoma seeking reparations for the Tulsa Race Massacre. Its last remaining survivors, Lessie Benningfield Randle, Viola Fletcher and Hughes Van Ellis – each over 100 years old – sued the City of Tulsa in 2020 with the hope that they'd see some manner of justice before they died.
For the uninitiated, or those who need more context surrounding the pilot of HBO's Watchmen: The incident, also known as the Black Wall Street massacre, was a two-day sustained white supremacist attack in the prosperous Greenwood neighborhood in Tulsa, Okla., in May 1921. Hundreds were murdered and thousands were left homeless after today's equivalent of nearly $30 million in property was destroyed.
Reparations for the massacre seem reasonable considering what the residents and business owners of Greenwood might've passed down to their descendants had they not been cut down. Unsurprisingly, however, conservative judge Caroline Wall dismissed the lawsuit "with prejudice," though the plaintiff's lawyers vow to stay the course.
The overall conversation around reparations is flawed on its face, which is why most Americans are against it. While the descendants of chattel slavery should be remuneratively acknowledged in theory, we aren't the only ones. And if the government is simply cutting checks, we run the risk of putting a price tag on centuries of slavery and its immeasurable impact on Black Americans…as well as empowering more white people to insist we shut up about slavery since debts were "paid."
It's far more reasonable to expect the government to fix up blighted neighborhoods, stop disrupting affirmative action programs and invest time and money into righting the myriad racism-perpetuated wrongs on American soil.
But as long as the powers that be see fit to cut a check for however many billions of dollars to Ukraine when a fraction of that money could move mountains stateside, I remain not optimistic about reparations for Black people, even though some states continue to give it a go.
I've made peace with that, but I'll spend whatever energy and social capital I have convincing the world that racism against whites is not a thing in America. It makes me laugh to even type it out.
Dustin J. Seibert is a native Detroiter living in Chicago. He loves his own mama slightly more than he loves music and exercises every day only so his French fry intake doesn't catch up to him. Find him at wafflecolored.com.