Who is Joyce Wrice? Meet The Singer Behind Disney's 'Proud Family' Revival Theme Song
"Kurt [Farquhar] and I wanted it to still feel like the song everyone knows and loves," she says.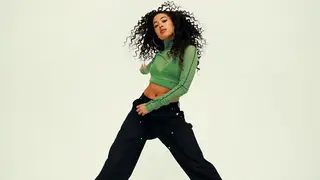 If you grew up watching Disney's The Proud Family, it might not feel like 20 years have passed since it first aired. The series, which hosted a cavalcade of Black stars including Kyla Pratt, Tommy Davidson, Paula Jai Parker, and others, left an indelible impression upon many who saw themselves in these animated characters.

And while it ran for only two seasons, the hype was real when Disney announced that The Proud Family would return to our television screens on Feb. 23. A new trailer re-introduced the now-teenaged Penny Proud and her zany family while introducing Joyce Wrice as the singer tapped to remix the iconic track crafted by Kurt Farquhar (Being Mary Jane, Girlfriends).
The original jam, performed by Solange Knowles and Destiny's Child, became as iconic as the cartoon. And with the sequel series, The Proud Family: Louder and Prouder launching soon, Wrice and company made the latest iteration something for the next generation to bop to.
The 29-year-old California native, whose studio debut Overgrown should still be in your rotation, took some time out to speak with BET.com about her relationship with the Disney show, working with the legendary TV and film composer, and what she hopes fans think of her catchy, remix.
---
BET.com For readers who are just getting to hear you from The Proud Family remixed theme song, can you share a bit about who Joyce Wrice is?
Joyce Wrice: I am originally from San Diego, California. My mother is Japanese, and my father is Black. My dad traveled a lot because he was in the Navy, and as an only child, music kept me company and became the sibling I never had! Growing up, I taught myself how to sing by mimicking artists I loved, like Brandy and Tamia. After I graduated college, I moved to Los Angeles to pursue a music career, knowing no one and working odd jobs. Through this journey, I am now a completely independent artist and released my debut album titled, Overgrown, in 2021!
BET.com: You've been consistently creative with your music for the past five years. At last year's Day N Vegas, you rocked the stage with your performance and presence. What does the Joyce Wrice Experience look like in 2022?
Joyce Wrice: [Laughs] The Joyce Wrice Experience in 2022 has more choreography, more urgent and colorful new music, fly outfits, and more heartfelt features and collaborations!
BET.com: Much news has been made about your participation in The Proud Family reboot. You got a chance to work with the legendary duo of Ralph and Kurt Farquhar, too, yes? What were those initial talks like before hitting the studio? Also, what were some wise words of advice you all exchanged that not only helped with this project but will impact your upcoming album?
Joyce Wrice: I am such a huge fan of the original show, so I was determined to make the most of this opportunity and be a sponge with Kurt [Farquhar] in the studio. I researched him beforehand to see his other work, and I geeked out because he did the Moesha theme song and the score for Girlfriends!
So I just followed his lead because he's a legend [laughs]! Initially, he encouraged me to bring my unique style and ideas to reimagine the song in a way that felt most natural and organic for me. The original theme is so perfect that I sometimes did not want to do too much different. However, throughout the sessions, Kurt encouraged me to be myself and not hold back on what feels good to me.
BET.com: Have you received any feedback or reaction from Destiny's Child and Solange?
Joyce Wrice: [Laughs] Ahhh, I wish! When that time comes, I will be sure to let you know!
BET.com: Okay, okay. You remarked that your time in the studio was a positive experience. What do you hope new and longtime fans of The Proud Family take away after listening to the remixed theme song and your performance?

Joyce Wrice: I hope that new and longtime fans can enjoy this reimagined version just as much as the original! It has the same lyrics and hook but with an updated production and beat for today's audience. Although I put my own interpretation into it, Kurt and I wanted it to still feel like the song everyone knows and loves.
BET.com: We all watched the show while growing up, but what were your favorite episodes and/or characters from the show? Did you identify with anyone in particular?
Joyce Wrice: I loved the episode where Penny joins the football team and proves to her dad, the football coach, and the team that girls can play and shouldn't be treated less than. Also, the Kwanzaa episode is a favorite. Such great stories are told in this show, and you can learn so much about Black culture and history.
A Black animated series was very rare to see growing up, so to feel seen and be represented felt so refreshing and good! I identified with Penny growing up. She's an extrovert who is determined and passionate. But she also struggles with a father who has an authoritative parenting style that doesn't mesh with her strong-willed spirit. I could relate to all of that — except it came from my mother! Now that I am older, I understand her now [laughs].
BET.com: 2022 has started off to be an exhilarating year for you and only looks to be ramping up. You're joining Lucky Daye for his 26-date Candydrip tour and have some pretty impressive collaborations in the works. What are you looking forward to experiencing while on the road and what do you hope fans are excited to see when you hit that stage?
Joyce Wrice: It's so much fun to bring your songs to life on stage! I hope people are most looking forward to that! Seeing the choreography live and hearing the live instrumentation from the band is always exciting. I have some crowd engagement sections in my set that I know will be enjoyable for fans!
I'm looking forward to getting back into touring with Daye as we haven't been able to tour because of the pandemic. We are so fortunate to be able to make this tour work despite everything going on in the world right now.
Eager listeners looking to get a jump on the rush for tickets can use the password "candydrip" to get early access in select cities.
You'll be able to hear the full song when The Proud Family: Louder and Prouder premieres on Feb. 23 on Disney+.
---
Kevin L. Clark is a screenwriter and entertainment director for BET Digital, who covers the intersection of music, film, pop culture, and social justice. Follow him on @KevitoClark.