Certified!: Alexis Skyy Gets Body Sculpting Certification With Potential For Large Financial Gains
The reality star is now certified in Body Ice Sculpting & Wood Therapy.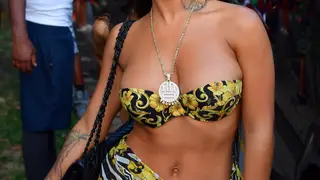 Alexis Skyy is well on her way to making some major coins in the body sculpting industry! Recently, the Love & Hip Hop: New York star shared the exciting news that she obtained a certification in Body Ice Sculpting & Wood Therapy, and via our research, the new skill promises a sizable financial payout. 
"Guys, today was so much fun learning this body ice & wood therapy with @beyondbeautyllc. Thank you so much for training me," she captioned an Instagram post on Saturday (Oct. 17). "I'm officially certified. I'll let you know when I'll start doing clients. SWIPE to see before and after results."
In the photos, Alexis can be seen working diligently on the ancient technique to slim down the patient's body. Let's just say the results speak for itself!
ICYMI: The reality star recently visited the Beyond Beauty in Mississippi to get the treatment a week before landing her new cert. 
According to Beyond Beauty's website, Ice Sculpting & Wood Therapy is a non-invasive body contouring solution stemming from ancient times using wooden tools to smooth, define, and sculpt desired areas. The technique aims to diminish cellulite, activate circulation, and carve inches. 
"Those results gone hit every time," Beyond Beauty shared on Instagram. "[Alexis] did an amazing job. If you're in #newyork or surrounding areas book with my girl."
As far as the cash payout, the 26-year-old beauty is looking at about $250 per 90 min session. 
That sounds like a money move to us. Congratulations, Alexis!