Seattle Seahawks Quarterback Russell Wilson Traded To Denver Broncos
The Seahawks reportedly agreed to a historic and blockbuster package for the Pro Bowl quarterback.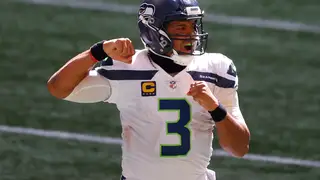 In a huge offseason trade, the Seattle Seahawks have agreed to trade quarterback Russell Wilson to the Denver Broncos for a "significant package," according to ESPN's Adam Schefter.
Shefter reported in a Twitter post that the Seahakws will get QB Drew Lock, TE Noah Fant, DL Shelby Harris, two first-round picks, two second-round picks and a fifth-round pick. The Broncos will receive Wilson and a fourth-round pick.
Wilson is currently in the final two years of his contract and will cost $19 million in salary in 2022 and $22 million in 2023. The Broncos have over $41 million in salary cap, making it possible to absorb his contract.
Wilson will have to pass a physical and agree to waive his no-trade clause to make the trade official. The trade can't be officially announced until May 16, which is the start of the 2022 league year.
Wilson, who has been selected to the Pro Bowl nine times during his 10 year NFL career, led the Seahawks a Super Bowl victory in 2014 and a return trip to the game in 2015. He's coming off his worst year in Seattle, which is partially due to injury. That said, he's one of the NFL's best quarterbacks and will help Denver's already strong roster in its efforts to return to the playoffs for the first time since the 2015 season when they won the Super Bowl.