Lookin' for Revenge: Drake and Rihanna Get Real Petty About Their Breakup
Did (India) Love cause all this hate?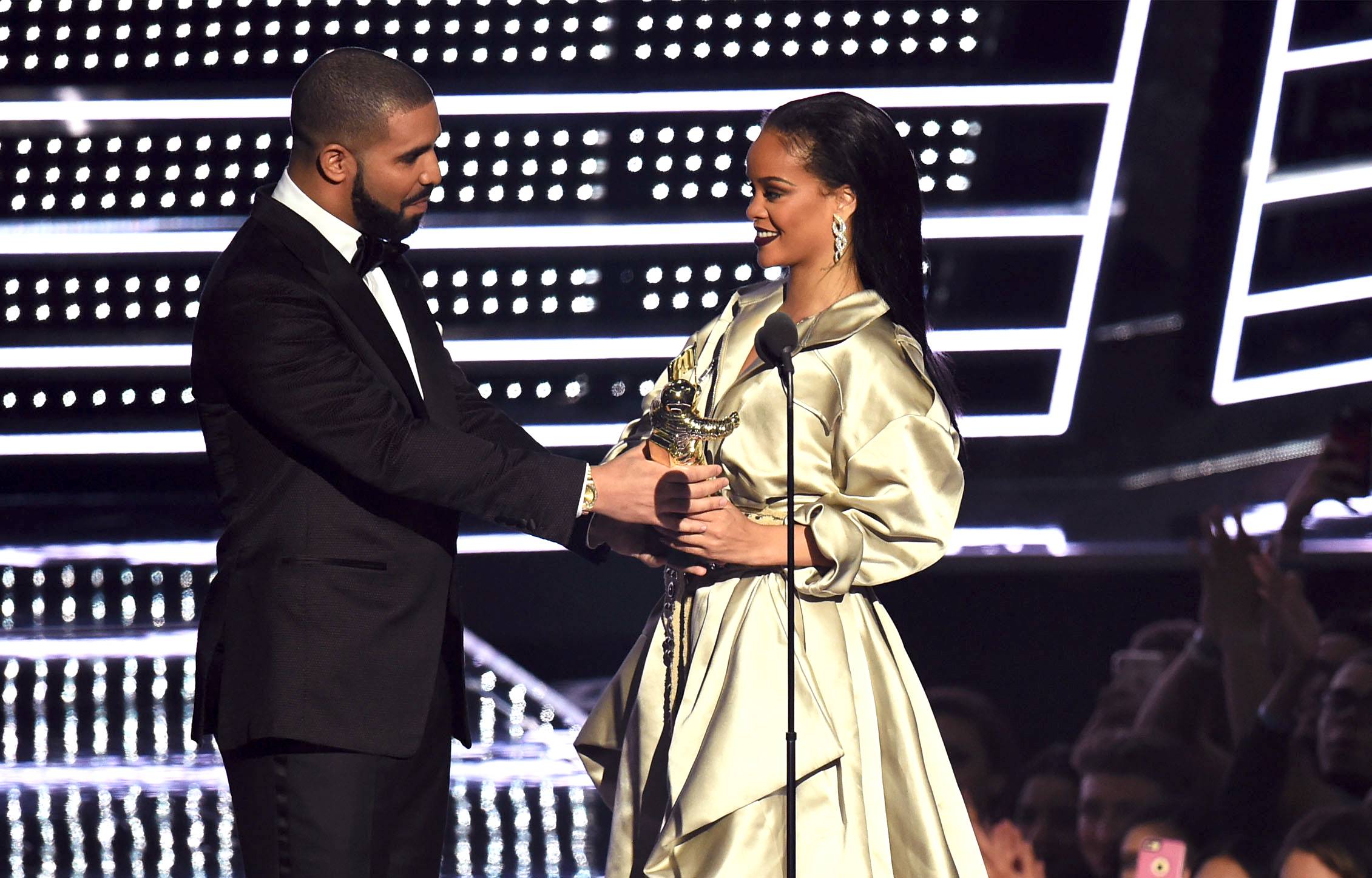 Rihanna and Drake have been playing a coy little game with us for years. Their are-they-aren't-they romance came to a head in September at the MTV VMA Awards, where Drake presented Rihanna with the Michael Jackson Video Vanguard Award and an over-the-top and very public declaration of love. It set off a chorus of "awws" so loud that we were riding the blissful baritone wave into the dark days of cuffing season, hoping to catch a bit of their happiness for ourselves. That is until about two weeks ago when it was abruptly reported that AubRih was no more. What happened? India Love? The end of Summer Sixteen? We might never know. But whatever it is, both parties seem to be looking for revenge. Without making any more overtly public statements, we can tell that these two are feuding something ugly. How, you say? Well, Rihanna and Drake are both late '80s babies, making them the pinnacles of millennials and how do we handle beef? With passive aggressive social media posts, natch. 
First, Rihanna posts a cryptic and pointed Instagram following rumors that Drake hooked up with reality star India Love. The OG bad gal basically absolves herself of all blame for this breakup. Your move Drizzy.
Drake responds with a flex — literally. It's thirsty, but OK we get it. Also, sorry but are we to take that blue heart to mean LOVE...or?
Then, Rihanna runs all the way home to Barbados to tell her dad about the dude that did her dirty. 
Presumably, Drake also discusses his relationship troubles with his father because there is no way that this caption is an accident. 
Rihanna is unbothered and is clearly living it up in her home country. She goes to church. She shares a video of a woman getting down to highlight her mood. 
Drake takes this time to cool off.
Rihanna then makes sure to let him know that Barbados is the best and vitamin D heals all wounds. She flexes with her bestie, Melissa. Always better to let your friend post this type of photo so it doesn't look too desperate. 
Drake flexes some more. He really is kind of a one trick pony. 
Rihanna then demonstrates just how much she is loved and adored by other people in her life when the employees at Fenty Corp give her a fab balloon display for Boss Appreciation Day. The message here being, "You don't love me, but everyone else does."
Drake also attempts to show that he understands love by posting a photo of two people that got engaged at his concert. 
He also starts to self-medicate. He would have you think that this picture equates to partying but we know better. Drake feels.
Rihanna hits him back with a thirst trap of her own, wearing a mini skirt and a shirt that seems like it could have belonged to Drake at some point (but we can't confirm). She's also healed herself up in Barbados and back, b****hes! 
Rihanna has been quiet since then, except to say #imwithher, which of course we can only interpret as girl power! 
So really, these two are going at it in the most transparent way possible. We cannot wait to see what happens next. Literally! We even turned on push notifications so you know it's real.