Report: Blacks Are Disproportionately Affected by Natural Disasters
The NAACP and others say that Black Americans are more severely affected by natural disasters such as the recent tornado in Oklahoma.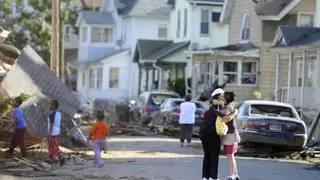 In the aftermath of the recent devastating tornado in Oklahoma, a good deal of national attention has been paid to disaster preparedness. It seems that African-American communities are especially disproportionately vulnerable to disasters.
A report by the NAACP makes the point that African-Americans are far less well prepared for disasters and are more inclined to be displaced and criminalized as a result of these events.
"Our socio-economic vulnerability is based on multiple factors, including pervasive lack of wealth to cushion us, oft-compromised quality of housing stock in many of our communities, our relative lack of mobility," the NAACP said.
"We also disproportionately live in coastal communities and in the Southeast, which are areas of considerable risk for hurricanes," it continued. "With climate change resulting in an increase in the severity and frequency of extreme weather events, African-American communities are disproportionately and increasingly at significant risk as experience has shown that African-Americans are disproportionately injured, displaced and criminalized in disaster situations."
According a number of studies, African-Americans are also underrepresented in the design and implementation of disaster response.
During the recent tornado in Oklahoma that barreled through the suburbs of Oklahoma City, many citizens, both African-American and white, were affected.
"Tornadoes don't discriminate and are not prejudiced," said Kevin Perry, president of Perry Publishing & Broadcasting, a communications company that is based in Oklahoma, speaking in an interview with BET.com.

Perry Publishing & Broadcasting operates FM and AM stations in Oklahoma City that broadcast urban music and have a high listening audience within the African-American population in Oklahoma City.
"We have found that Black people have been affected by this disaster and we have felt a strong obligation to help people to get the assistance they need, throughout the entire community," Perry said. However he added, "I don't know anyone, Black or white, who is adequately prepared for the kind of tornado we have experienced."
It is important, the NAACP report says, "that we volunteer, as many of us are already doing through our churches, local Red Cross, or through our branches."
"With our differential risk for civil and human rights violations in times of disaster and afterwards, we have a crucial role in understanding emergency management and being engaged in its implementation."

 (Photo: AP Photo/Jessica Hill)