Kanye West's Yeezy Brand And Balenciaga Release DMX Tribute T-Shirt
The proceeds will go to DMX's family.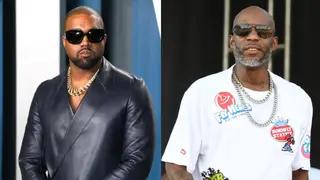 Kanye West honored the life of legendary rapper DMX with a T-shirt from the fashion house Balenciaga.
According to Complex, the commemorative T-shirt appeared on DMX's Instagram account prior to the start of the late rapper's memorial service on Saturday (April 24). DMX died on April 9 at age 50.
A website was created to purchase the T-shirt at $200 each. By Sunday, the T-shirts were sold out. The effort raised more than $1 million for DMX's family, TMZ reported.
"Balenciaga has been asked by Yeezy to design a T-shirt in tribute to the late artist Earl Simmons, aka DMX. A tribute to the artist and his fans with net proceeds benefiting Simmons's family," a statement said.
A monster truck carrying the casket containing DMX's body led a funeral procession Saturday from Yonkers, New York to the Barclays Center in Brooklyn. Scores of fans gathered outside the arena to celebrate the life of the late rapper.