Here's Why Kanye West Has Black Twitter Fuming Over 'Multiracial' Casting Call
His mentions are on fire right now.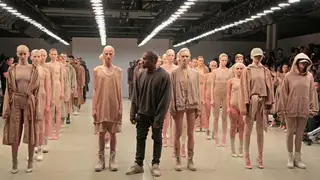 Kanye West is up to something, and it shouldn't come as a surprise that his latest endeavor is being met with a mixed bag of support and criticism.
Taking to Twitter this evening, the rapper-turned-designer posted a casting call for tomorrow (September 4) in New York City, looking for models for his upcoming fourth Yeezy season. However, he is calling for "multiracial women only" and naturally, Black Twitter is in a frenzy.
In addition to the date and time, taking place tomorrow at Jack Studios in NYC, 'Ye also included the instructions for hopeful models to wear "no makeup" and "please come as you are."

The label "multiracial" has been heavily criticized from the second his tweet went live, submitted without additional comment, of course, with people expressing their outrage due to the ambiguous nature of the word in our culture.
Some are interpreting that West is looking for light-skinned women and therefore unfairly will be excluding those with darker skin, while others are arguing the classification of "multiracial" applies to every person of color, regardless of the shade of their skin.
The call is all too familiar of his work with his former collaborator, Vanessa Beecroft, who offered a plethora of racist comments during an interview in New York Magazine, with her commentary ranging from her admitted obsession with Blackness and Africa to referring to West as her "magical Negro" to bizarrely claiming to not be familiar with who Beyoncé is.
Under Beecroft's direction, the two were looking for "poor and intelligent" people, with the designer saying "please don't cast anyone who looks stupid. Or fancy. Please. Classical, poor, and elegant," and thus angering people for obvious reasons.
While West has not yet spoken in depth on his call for "multiracial" models and what that means to him and his vision, Black Twitter is weighing in heavily on the matter. Check out some of the ranging reactions in the tweets below.