Tyra Banks Feels Confident and 'Empowered' As 50th Birthday Approaches
The supermodel said she has not gone under the knife to reverse her age.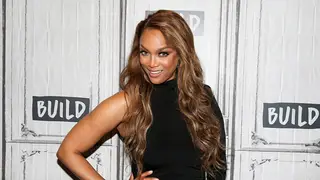 Tyra Banks is not letting age define her.
Ahead of her 50th birthday in December, the supermodel looks forward to a new decade, although she feels 20 years younger. On Tuesday (September 19), she told PEOPLE, "I look in the mirror and I don't feel 50. I think 50 is the new 30s. When I look in the mirror, I don't see it."
Although the famous runway trailblazer admitted that she has never gone under the knife to age backward, Banks is not wholly opposed to it in the future.
"I have not had age plastic surgery stuff. Not against it. I just haven't had it yet. Maybe I'll need a little something something — I am 50 even though I'm not [yet]. But I'm not insecure about it."
As her big day approaches, she has already started to practice what her day-to-day will entail.
"I keep saying I'm 50, even though I'm not, as an excuse. When people ask me I say, 'I ain't doing that — I'm 50,'" she quipped. "Or, 'I'm just going to tell you what I think, because I'm 50.'"
When 50 arrives, Banks noted that a day with her loved ones and her son, York, 7, is a top priority.
"My man, he wanted to throw this huge 50-year-old birthday for me, and I kind of found out about it," said Banks, reportedly dating businessman Louis Bélanger-Martin. "I let him know I have no desire to do that. I just want to go to Disneyland with the family."
Banks –who is now the face of Karen Millen – only accepts work these days that makes her feel comfortable.
"I don't have the body I used to have when I was on runways, and so to have these clothes fit me like this ... it's rare to have a tailored piece look good on curves," she shared while  on the set of her shoot for the campaign.
She added, "I feel empowered. Sometimes I'll go to a photo shoot and I'll be like, 'This stuff ain't going fit me. It ain't going to fit right.' I'm going to have to do all these tricks and stuff. But I feel proud to have these clothes and that they look so good."