Why Tyler Perry and HIV Storylines Shouldn't Mix
Tyler Perry's new movie, Temptation, completely perpetuates the HIV stigma that plagues the Black community.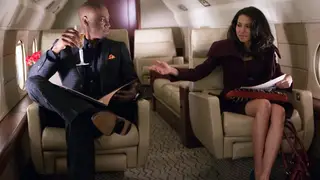 Judith (Jurnee Smollett-Bell), a homely married woman who wants to be a marriage counselor, is completely bored by her loving husband, Brice (Lance Gross), who pays very little attention to her. Judith meets Harley (Robbie Jones), a Mark Zuckerberg-esque billionaire, then starts getting her hair done and wearing revealing and stylish clothes and becomes wrapped up in a twisted abusive affair with Harley.
Judith's mother, who is a preacher but acts like a psychic, warns Judith that this man is the "devil" and to work things out with her good man at home. By the end of the film, we find out that Harley has HIV, has given it to an ex-girlfriend (Brandy Norwood) and Judith. Of course, Brice, who is a good Christian man, doesn't test positive. He leaves Judith, finds a "better" HIV-negative woman and has the happy family that he deserves. Meanwhile, Judith gets what she deserves: Loneliness and shame, because who wants to be with her now that she is "damaged goods?"
Thankfully as soon as opening weekend was over, journalists and bloggers took to the Net to call out just how insanely wrong this film is. Carolyn Edgar blasted Perry for not knowing the difference between consensual sex and rape. Lindy West went in on Perry writing that he punishes women for straying away from gender roles and religion.
But yet it's his tacky and demeaning HIV storyline that Louis Peitzman brilliantly shuts down, and which I'd like to deconstruct even more. Because the messages that Perry is sending about the HIV-positive community and AIDS in Black America is misguided, lacks compassion and is completely counterproductive.
First, Temptation completely perpetuates the HIV stigma that plagues our community. Why is he telling positive people, especially women, they do not deserve happiness and love? No, being positive isn't easy, but it doesn't have to be a life of desolation, shame and abstinence. It's this kind of stigma that makes positive folks believe that they are unworthy of love, relationships and sex.
Not to mention, Harley's character represents society's misguided fear that all HIV-positive people are evil and want to purposely infect HIV-negative people. Now, unlike Perry's homophobic HIV down-low storyline in For Colored Girls, we are not sure if Harley is "on the low" or not, but it really doesn't matter. Because what Temptation does is pits us against each other: Straight Black women vs. gay Black men/straight Black women vs. Black men. And it's sad because this disease ravages our community more than any other racial or ethnic group in this country. Division is the last thing that we need.
But really it's Perry's moralistic approach to the AIDS epidemic that is truly terrifying, because it cosigns on this ideal that HIV is a consequence of making "poor" choices and that it only happens to "bad people." And by this being the crux of his argument (if he even has one), he is sending a dangerous message that there is something pathologically and inherently wrong with Black sexuality. And perhaps this epidemic is our own fault because we just can't keep our legs closed. All of which couldn't be further from the truth.
HIV/AIDS is NOT a morality issue; it's a public health crisis and a human-rights issue.
Oh, and there's a lot of science to back that all up.
And some of you may say, "But this is just a movie, it's not that deep." I would challenge you to not be naïve about the power that pop culture has in shaping the hearts and minds of America. (How do you think the down-low became what it is today?) Therefore, we also cannot be naïve about the influence that Perry has in our community. Hell, Perry is a religion. And yet he lacks the compassion that religion encourages us to have.
HIV should never be a plot twist, thrown in for shock value or to create drama. It's lazy filmmaking, completely insensitive, and mocks the battle that the HIV/AIDS community and its allies have been fighting against for 30-plus years. So, fine, keep making films that speak to your "sanctified" base, but all I ask is that you keep HIV/AIDS out of your storylines and your mouth.
The opinions expressed here do not necessarily reflect those of BET Networks.
BET Health News - We go beyond the music and entertainment world to bring you important medical information and health-related tips of special relevance to Blacks in the U.S. and around the world. Click here to subscribe to our newsletter. 
(Photo: KC Bailey/ Lionsgate Pictures)