Yo Gotti And Angela Simmons Make First Public Appearance As Couple at NBA Game
The celebrity couple cuddled courtside at a Memphis Grizzlies game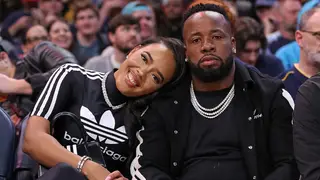 Rapper Yo Gotti and hip-hop heiress Angela Simmons are officially out and about with their blossoming romance.
The pair were spotted courtside as the Memphis Grizzlies took on the Cleveland Cavaliers on Wednesday night (Jan 18).
The duo wore complementary black and white outfits, with Simmons in Adidas-inspired Balenciaga. As part of Run-DMC, her father, Joseph "Rev Run" Simmons helped make the German shoe giant a household name with "My Adidas" in 1986.
Simmons shared a photo from the game to her Instagram with the caption, "Long as I'm next to you," with a heart emoji.
The couple announced their relationship with a black-tie photo shoot that they shared on their social media channels on New Year's Eve.
"You are all I need and more," Angela captioned a series of fashionable photos on Instagram. Clearly in love, the Growing Up Hip Hop star followed up her words with a bright red heart emoji.
While Gotti wrote, "[Ain't] loss a crush since High School," Yo Gotti captioned a video on Instagram that highlighted their undeniable chemistry.
The CMG label head had pursued Simmons since his 2015 hit single, "Down In The DM," where he rapped, "And I just followed Angela (Simmons). Boy, I got a crush on Angela Simmons."
As BET.com previously reported, Simmons celebrated the new relationship earlier this month, sharing in an IG story that she is, "Happier than I've ever been."