The Wife Of Pepa's Married Bae Claims He Gave Her A Disgusting Ultimatum
Jordyn Taylor drops a bombshell about their relationship.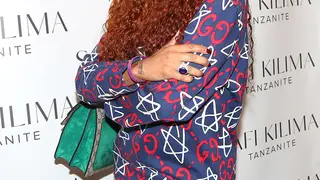 Sandra "Pepa" Denton is rumored to be dating a man 32 years younger than her, but that's not what has people talking.
29-year-old Aundre Dean is an aspiring actor and rapper. He's also married and his estranged wife has a story to tell. That woman, Jordyn Taylor, shares a young son with Dean and is reportedly expecting their second child in July. According to her, that latest baby was something Aundre never wanted.

"In December Aundre & I separated after he gave me an ultimatum to have an abortion, or to get a divorce. I chose to Trust God & preserve the life of our daughter - while praying for my husband," Taylor wrote in a note she posted to her Instagram. "Although there were signs, I just couldn't believe he was having an affair with his "boss" #PepaPig. Now, I know that's why he wanted me to get rid of our baby."

"When mistresses talk about God… it's laughable!" she wrote. "'Keep being a good dad?' … Good dads also don't stress their pregnant wives out for 15 minutes of fame with a D list 'has been' senior citizen celebrity… Still, I release you both in the name of Jesus. God bless u #GUHH #heresyour15minutesoffame."

People seemed to supportive of Jordyn Taylor via the comments on her latest Instagram post. "I don't know you but I'm praying for you and tgose babies. I can relate to you through emotions," one person wrote. "You are God's child and he gave you those beautiful babies. Stay focus on him and his word."

"You are so beautiful, inside and out. keep on keeping on momma!" another person commented.

At the end of her IG post, Taylor says this will her last statement about her estranged husband. Seems like things are getting pretty messy.