Stockton, Calif., Announces Arrest Of Suspected Serial Killer While He Was Possibly 'Hunting' For Another Victim
Wesley Brownlee is accused of fatally shooting six people, some of them homeless.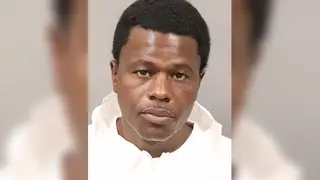 Stockton, Calif., police announced the arrest on Saturday (Oct. 15) of a suspected serial killer, apprehended around 2 a.m. while he was armed and possibly "out hunting" for another victim.
At a news conference at Stockton Police Department headquarters, authorities identified the suspect as Wesley Brownlee, 43, of Stockton, the Sacramento Bee reports. Investigators tied the gunning down of six people, five in Stockton and one in Oakland, that began in April 2021 to a single weapon connected to Brownlee.
Police Chief Stanley McFadden told reporters that the investigation is ongoing, but investigators "are sure we stopped another killing."
San Joaquin County District Attorney Tori Verber-Salazar said her office is reviewing all the evidence and will determine charges against Brownlee who was expected to be arraigned on Oct. 18.
McFadden credited a breakthrough in the case to community tips and police work that enabled detectives to "zero in on a possible suspect."
A surveillance team followed Brownlee, who has a criminal record, and observed him driving while wearing the black clothing and mask around his neck that surveillance video recorded in one of the killings.
"He was on a mission to kill. He was out hunting," McFadden stated.
A motive for the attacks was still unknown, the Associated Press reported. The victims, some of them homeless, were not beaten or robbed. The lone survivor, Natasha LaTour, 46, stated the shooter said nothing to her before attacking.
Authorities held a moment of silence at the news conference for the victims. On April 10, 2021 in Oakland, Juan Vasquez Serrano, 39, was the first person fatally shot. The five men killed in Stockton this year were Paul Yaw, 35, who died July 8; Salvador Debudey Jr., 43, who died Aug. 11; Jonathan Hernandez Rodriguez, 21, who died Aug. 30; Juan Cruz, 52, who died Sept. 21; and Lawrence Lopez Sr., 54, who died Sept. 27.