'Riches' Cast Talks About Introducing African Culture Into Mainstream Television
The cast also discusses the stigma surrounding homosexuality in African culture.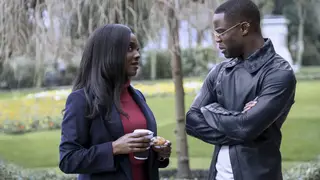 Prime Video has another great series that will have you on the edge of your seats in Riches, which will follow the stylish, privileged, super-successful Richards Family when the patriarch Stephen Richards (Hugh Quarshie), passes suddenly, causing the family's world to come crashing down. As his business hangs in the balance, his different sets of children are about to collide as they vie for control. The cast includes Deborah Ayorinde, Hugh Quarshie, Sarah Niles, Adeyinka Akinrinade, Ola Orebiyi, Nneka Okoye, and Emmanuel Imani.
In a fun conversation with BET.com, Ayorinde, Okoye, Akinrinade, Orebiyi, and Imani chat about the series, not having their power stripped away,  and the strides having an openly gay character in the series will make within the African community.
BET.com: Every boss has their "superpower." What is your "superpower" that makes you a boss?
Akinrinade: Ooooh, that's a great question. I would say my superpower is how I use my intuition.
BET.com: In life, everyone's goal is to achieve some sort of richness, whether in monetary value or within their spirits. How are you actively working towards having a rich life?
Orebiyi: God. I have a lot of brothers and sisters from the church, and I'm in one of their houses right now while conducting interviews. I grew up an only child, and a few months ago, I was blessed God brought these brothers and sisters my way — I have people in Brazil, Portugal, and all over the world, so nothing can ever replace that. No matter how rich or poor I get in this world, I will always have them.
BET.com: The series is pushing African culture into the mainstream more than ever. How was the workshopping process regarding authentic African garments, the language, and those intricate details to make the series as true to African roots as possible?
Ayorinde: Abby, who is Nigerian and Yorba, supported the cast infusing our authentic culture in there, and added a few things herself because she understands. We contributed, including [Emmannuel], who called me and asked how I felt about him including Yorba in the show, which I was here for. It's a celebration of beautiful Blackness, and we also have a few Carribeans in the series. I hope the show bridges the gap.
Okoye: That is a great question, Ty. It was a very collaborative space, and many of the cast were from Nigeria. One of our cast members, Emmanuel Imani, would encourage us to speak Yorba, and our creator Abby Ajayi would want us to go for it. I remember being adamant about having a few hairstyles in braids because it's another way to celebrate our culture and hair globally, especially since braids weren't always deemed professional, even in today's spaces. I wanted to normalize it and celebrate our roots and heritage.
BET.com: In African culture, when it comes to queer representation, it could be deemed taboo and pushed to be a secret. How important was it to involve an openly queer character in the series, and what strides do you think this will make within the African community?
Imani: Great question. As a queer man in my own right, I've been seeking opportunities to play complex, queer men and not how we're used to seeing them. I wanted my character to have more of an edge and be someone we could learn from. Simon is in therapy and has this fantastic partner around him — he has a mother who isn't dragging him but supports him like his sister. Everyone around him affirms and holds him up, which is vital for Africans to see onscreen and learn from — to feel represented.
BET.com: There's a scene where Nina has a one-night stand and kicks out her muse for the evening. For you, what's the proper etiquette for a one-night stand?
Imani: That man was fine, but anyways, I am a Catholic man, Ty — I've never even used Grindr, and I don't know what a one-night stand is [laughs]. Not from my experience, but if I were to give any advice, is don't hook up with folks at your place because then you'll have to do the awkward thing that Nina did and kick them out — they may curse you out. If it's safe, go over to their spot, and you can leave when you're good and ready.
BET.com: In America, being followed in a department store is unfortunately still common for Black and Brown shoppers. There's a scene where Nina and her mother face this situation, and Nina gets a pep talk to never let anyone take her power. How do you ensure not to have your power stripped away from you as you navigate the world personally and in your career?
Ayorinde: It's interesting you ask me this because I spoke with someone the other day about showing up unapologetically and taking up space — that's how I don't let others take my power as I'm unapologetic. In those experiences like this, the temptation is to shrink and assimilate, so you think it's about you prompting yourself to change to be less threatening or whatever. You take your power back by showing up and being more of yourself. The beautiful. After that moment in the series, the family creates their empire, which is another answer to taking your power back by creating something for us, by us.
Imani: One thing I would like to say that's been pivotal to me is finding a way to get a seat at the table and if they don't provide the seat, build your own. I wrote a short film called 'Demons,' which touches on queer homophobia and homophobic attacks in Nigeria — one thing I learned was if you're unable to find complex depictions of queer men, create your own. It's harder to deny us when we forge paths and become trailblazers.
BET.com: A death in the series shakes up the lives of the Richards as the show progresses. What's one theme in the series the family goes through that excited you while filming that fans will enjoy seeing?
Imani: I'm messy, and I enjoy watching people cheat because, as a Catholic, I can't do all of that [laughs]. I enjoy sitting in my home and watching people be naughty — you have people doing the family lifestyle one second. Then they're stepping out with their side piece, regulating the situation and being a boss. In our show, it's the women, and you don't get to see women holding that seat of power often — it's sexy, and I'm enjoying the sexiness of the show.
Ayorinde: Fans will enjoy seeing women at the center and running things — beautiful, sexy, smart, and powerful Black women at the center of the frame and taking up space positively or negatively. It will be so refreshing for people to see; we need more of it.
Get your entire life and stream Riches on Prime Video.
---
*This interview has been edited for length and clarity
Ty Cole is a New York-based entertainment reporter and writer for BET.com who covers pop culture, music, and lifestyle. Follow his latest musings on Twitter @IamTyCole.*This interview has been edited for length and clarity