Naya Rivera Blasted for Saying Showering Daily Is a 'White People Thing'
Social media comes for the Glee star over hygiene comments.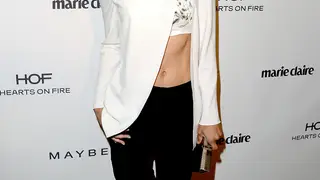 Naya Rivera elicited a collective cringe from anyone watching The View on Tuesday, when she shared her views about hygiene. The Glee actress said, "I have to say I have a theory about showering, [which] is that I think that white people shower a lot more than ethnics." She added, "I feel like showering more than once a day or every day is such a white people thing."
One of her stunned co-stars chimed in: "I would like to dispute that!" while Rosie O'Donnell pointed to an audience member. "Look, there is an African-American woman right there in a yellow shirt that is about to have a heart attack," she remarked.
Rivera, attempting to repair the situation, noted that her mother is half-Black, half-Puerto Rican. "She showers every day, so I can say this," the actress said directly to the guest. "But I can say that I am now married to a white man [Ryan Dorsey], and he showers a lot. Like, a lot — two, three times a day. I'm like, 'What are you doing?'"
Rivera then got scientific in trying to prove her point. "A study says... a dermatologist says you are only supposed to shower once or twice every three days, so I'm right on the mark."
Despite the science, Big Sean's ex cited to prove her point, fans on social media blasted the actress both for being, well, gross, and for perpetuating negative stereotypes about "ethnic people."
"Now white people gonna think we don't shower cuz of Naya Rivera," wrote one person on Twitter.
Rivera responded to the backlash with a tweet of her own: "When you get out of the shower today, get a sense of humor," she wrote. "Love ya!"

Click here for a chance to win $1500 in our Real Husbands of Hollywood Fan FIT sweepstakes presented by the 2015 Honda FIT!

Click here to win a trip to the Super Bowl Gospel Celebration in Phoenix, AZ, plus 4 tickets to the Big Game. 
BET.com is your #1 source for Black celebrity news, photos, exclusive videos and all the latest in the world of hip hop and R&B music.
Click here to subscribe to our newsletter.

(Photo: Jason Merritt/Getty Images for Marie Claire)