#Unboxed Vol. 14: Joeboy's New Album 'Body & Soul' Is The Culmination Of Soul Searching And Self-Acceptance
The Lagos Afrobeats artist's journey through travel has bled into his music, and fans can hear it in his sophomore LP.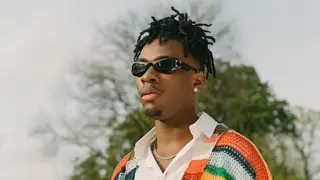 Nigerian Afrobeats sensation, Joeboy, has revealed that his latest album, Body & Soul, is a tribute to various facets of love - self-love, romantic love, familial love, or the love for life itself. However, this personal growth and development phase was a gradual realization for the talented artist.
In a revealing Instagram post last month, Joeboy, a proud Lagos native, disclosed that he had spent 16 months on self-discovery, introspection, and embracing vulnerability. This introspective period was instrumental in shaping his sophomore LP, transforming his experiences into heartfelt melodies and poignant lyrics.
With his second album, the intention to embrace vulnerability manifests in Joeboy's work. This is evident in the album's title track and the deeply personal song "Sip," which addresses how individuals often resort to alcohol as a coping mechanism for unwanted emotions.
Body & Soul represents Joeboy's artistic progression from his debut album, Somewhere Between Beauty & Magic. The debut was his initial exploration into his artistic identity, whereas his latest work offers fans a more intimate glimpse into his soul.
In a recent conversation with BET, Joeboy delved into discussions about his new album, the invaluable lessons he has gleaned from his travels, and the personal insights he gained during his extended period of reflection. More on this below.
BET: You're from Lagos. What was it like growing up there and how did it lead you to being interested in breaking into the music industry?
Joeboy: The story really starts from my family. I grew up in a music-loving family. My dad played the keyboard in church and my older brother used to play the guitar, and I used to go to choir practice and I always had this subconscious love for music. I became like a really, really big fan of just the idea of music in general. I didn't think I was going to be a singer, songwriter, or performing artist, [music] was just one of the things that actually fascinated me. Step by step, growing up, becoming a teenager, I think the first thing was me going to the studio with a friend of mine, and he persuaded me to jump on a song to record a melody or a verse on song and I did and people kind of liked it at that point. So I think that was encouragement for me. So music became something that I used to do for fun.
BET: On May 19, you're slated to release your new project Body & Soul. Talk about that a little bit and what fans can expect from it from your perspective…
Joeboy: I would say I'm more honest, or at least from a personal perspective in my music, like I was a bit more personal than I was on my last album. So expect more personal songs and a lot of realness on the songs also. And definitely [it contains] amazing music. There'll be an obvious difference in my sound from the first album, there's an obvious growth and I'm more confident with the sound basically.
BET: You have a lot of talent from Nigeria who contributed to the project – E Kelly, Tempoe, Deera being some of them. Why was it important to you to have Nigeria well-represented on this?
Joeboy: I feel like when it comes to the kind of music I'm making or I make right now, it's better to make music with people that actually understand the kind of environments that I'm from so there will be an obvious synergy. To be honest, I wasn't even thinking in that direction that I need to work with everybody from my hometown. It was just kind of natural. I didn't need to think about that, just because the way I work I'm always trying to make the best of the best songs that best suit me for the album.
BET: I like how you present yourself in your music videos – whether it's "Duffel Bag," or "Body & Soul" or any other one. How important is a visual representation and how you look in addition to how you sound?
Joeboy: It's important but I think over the past year I've been more intentional about my videos. I love to have like a storyline from "Contour" to "Body & Soul" and obviously I tried to make it as relatable as possible. I'm not trying to seem some type of way. I like to tell a story that everybody or the average person can understand and connect to, so I'm not trying to be too deep. I just want to be relatable because I make the best kind of music when I'm relatable.
BET: How did the Ludacris collaboration on "Chicken, Spice & Curry" come about?
Joeboy: It wasn't even really planned to be honest. I remember I met Ludacris and his wife. I was supposed to meet them in Vegas last year, and while I was performing, they were the events and stuff so they reached out to my management. I invited his wife to my Atlanta show on that same tour but he couldn't make and his wife came through and she had a great time. She was always posting my music and talking about my music and stuff. Ludacris is a big fan of Afrobeat. So yeah, I got a call like, "Ludacris is in Ghana, and he wants you to come through. So I went to Ghana and met him. He played me a couple of beats, and I recorded like a couple of verses on different beats and he loved all of them. He asked if there were any songs that I might want him to jump on. I went in with the mindset that I just wanted to just record for us. I wasn't even thinking of asking for anything. The first song I played him was "Chicken, Spice & Curry" because there was already a verse space for that song open, and he liked it. And he jumped on it like right in my presence and it wasn't even planned out. It was just based off of mutual energies.
BET: In an Instagram post you made last month you noted that you did 16 months of soul searching and went through a rollercoaster of emotions in making this project but also living life in general. What were some of those emotions or things you learned about yourself during that process?
Joeboy: That particular period made me more confident because mentally I was in the loop. I didn't feel complete at that point, and so maybe I should take some time off and do some soul-searching. A lot of traveling and traveling opens your mind and your perspectives sometimes. I learned a lot by myself and it just made me more confident. There were some things that I didn't understand before then that I know now, and it translated into the music. So I've learned to be more open, like my personal stories and stuff on the album. So I feel like they'll be more connected when we listen to this album. They'll feel more connected to who I am as a person.
BET: You've been traveling internationally for a while now. What are some of the lessons you've learned from playing shows around the world?
Joeboy: I think one of the things that I really learned from actually traveling is the fact that music is so dynamic, and you just like open your creativity like, Oh, there are some songs from Eastern Africa – the guitar that they used I can fuse into my music. So that way, I'm infusing that sound into Afrobeats and even people that listen to music where Afrobeats isn't really popular, I can understand and connect because I picked up sound from India. I'll be in India and Asia, and the melody sounds so similar. It's like a kind of natural military somebody. So it's just about picking different ideas and different dynamics and making it into something and that really helps when it comes to traveling and opening up your perspective and the more stories you can talk about. I think one thing that really limits creativity staying in one place, it kind of boxes you because you have the same experiences all the time.
BET: What is your creative process like? When you hit the studio, what are you looking to accomplish?
Joeboy: So I'm a very observant person, like when I'm out in public I don't really talk much. I'm just watching random stuff, and so I could see a situation or an experience and an idea just comes to my head. I realized that making the best music is from little things in life. I always like to point out the simplest of things, and I write it down, I have my notes on my phone, singing a melody, I record it on my phone. I do this every day or anytime I can. I could be on the plane.
So when I'm in the studio, I work on those ideas, rough ideas, or those rough sketches that I put on my phone. I work on them and build on them and stuff, and that's it. So I make music that is formulated from experiences.