#Unboxed Vol. 11: Bloody Civilian's Music Is A Celebration Of Her Nigerian Heritage And Strictly To The Point
The Abuja singer-songwriter discusses her latest music and her song "Wake Up" from the 'Black Panther: Wakanda Forever' soundtrack.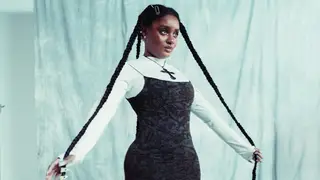 Bloody Civilian has both an amazing pedigree and story, which make for abundantly creative music that is immaculately executed.
The Abuja, Nigeria native is the product of a medical doctor mother and an engineer father who also has his own musical background. It's that upbringing, mixed with the "solemn" elements of growing up in Abuja, that makes the genre-defying singer-songwriter able to relay her message in a very concise and effective way.
Case-in-point, her April-released single "I Don't Like You" conveys the direct notion of not hating on anyone, but also, not wasting one's time with someone who's not helping them grow. "I don't f*****g like you on a normal day / And your people like to hype you," Civilian sings to open the track. "But I no look their way / It's not like I hate you / It's just I don't like you / And my mama sef no like you."
Now residing in Lagos, Bloody Civilian is taking her unapologetic brand to the masses in 2023, and already has a huge head start. Her song "Wake Up" was featured on the Black Panther: Wakanda Forever soundtrack last year before she released her newest singles – all of which are in preparation for a new EP she plans to drop in June.
BET spoke with Bloody Civilian recently about all of her latest endeavors, including her come-up, the importance West African culture has on her music, her unique idea of throwing shows at houses across Nigeria and much more. Read below.
BET: You're from Abuja, Nigeria. What was your childhood like growing up there and how did you fall in love with music during that time?
Bloody Civilian: So growing up in Abuja, it's a very solemn city compared to Lagos. So I was really just into my creativity [and it] was my safe space. And in that place, I was allowed to express myself in the way I wanted to because I had the time and I had the space to.
BET: Your parents are very successful being doctors and engineers. Your father specifically was a bass guitarist in a band in the 1980s. How much did that play into your musical makeup and what have you learned from him specifically?
Bloody Civilian: I'll say foundationally I learned so much. That was just the starting point for me. I grew up on so much reggae and soul and a lot of the stuff my dad was listening to – and a lot of Afro folk music, traditional music as well. So growing up on that, it just gives me a very rich background to be able to pull from different influences. And yeah, so in that way.
BET: How much does West African culture shape your life and approach to not just music but your general creativity or even overall being?
Bloody Civilian: In every way. I feel like everything about being West African is the crux of my entire existence. It's everything that I speak about and think about.
BET: A few weeks ago you released your single "I Don't Like You," which I really enjoyed, and I feel a lot of your music is very expressive. Could you elaborate on that song specifically and speaking what's on your mind through your music?
Bloody Civilian: I feel like for my music in general I always try to say the things people are thinking but just might not quite have the words to say, and I love to tell stories as well. For this song, I found an opportunity to really just express a feeling that wasn't quite black or white. It's somewhere in the middle. Having someone you don't necessarily want to wish bad for, but you don't necessarily like, and that's what the song is about.
BET: In December you released the video for "How To Kill A Man." How did that one come together?
Bloody Civilian: It's definitely one of those songs that I'll say is storytelling – equal parts storytelling, equal parts living vicariously through an alternate character. So in writing that song, I kind of just wanted to express the frustrations of being a woman in general. Even in the video, that's the portrayal of young and older women passing down their wisdom and how we navigate the hardships of life. It was an exciting project and I learned a lot from it.
Generally life, I will say, is harder for women of different walks of life. You find men in those same walks of life, but they have a different experience and it's because of the prejudices that we like experienced, especially in Nigeria. There's a lot of stuff that girls, young girls, and women are limited by. So yeah, I just wanted to be able to speak out on that. And I, myself have experienced a lot of these prejudices.
BET: Your single "Wake Up" was featured on the Black Panther: Wakanda Forever soundtrack. How did that come together and what are the origins of that placement?
Bloody Civilian: I came in with a beats pack and I played a couple and the executive producer picks one of them and basically told me the theme of the direction they were going for, and then kind of like gave me the creative freedom to decide what the actual song would be about. So I thought it would be cool to talk about waking up in the morning and how it feels when you wake up and you don't actually want to get out of bed, but you have to just so you can chase your dreams. The original beat had an alarm in it, but it was taken out later on, but that's where I got the idea to just make the song about waking up at 6:30 a.m.
BET: You're very influenced by artists like Tame Impala, Travis Scott, Frank Ocean, Kid Cudi, and others. And you can hear it in your music a bit. How do they inspire you?
Bloody Civilian: A lot of people had the [Fela] Kuti phase, the Tame Impala phase, especially in the same era in high school. So these people definitely got me through a lot of emotions. I feel like the lyrics – down to the music, down to the production – I just knew that there was something about it that resonated with me deeply in the way that they wrote their lyrics, and in the way that they expressed themselves and like the topics they also talked about depression and our emotions and love. So yeah, in that way, they really inspired how I tackle music, although I approach it, obviously differently, but it's definitely a huge, huge inspiration and got me through a lot in high school as well.
BET: One thing I thought was really cool on Instagram is you floated the idea of doing a house tour in Nigeria all across different cities. How is that going because that's a great idea?
Bloody Civilian: I think touring in Nigeria is something that's funny because back in the day people would go into on the road and literally drive to different cities and connect people to shows. I think due to the situation on ground in the country with the attacks on the bandits and everything, people have been scared and shied away from connecting with people like before. So I've been trying to find a safe way to kind of be able to do smaller things, but still have them to be intimate and connect with people. I really want people to choose that I can come into their space because I feel it will make us more special. So I've just put that out there to see how many people will let me in their house. But yeah, I'm excited to be able to do that.
BET: You mentioned a new EP you're working on. How's that coming along?
Bloody Civilian: Yeah my EP is possibly coming out in June and I'm super excited to bring it out. It's just a compilation of stories and I'm very, very excited to put this out. I have zero expectations. I'm just ready.
BET: Yeah because in the music you've already released you've given listeners kind of a deep dive into your vulnerabilities and personal nature that a lot of artists don't…
Bloody Civilian: This EP is quite vulnerable. There's one track in particular that actually was most vulnerable, and overall, I didn't hold back when it came to kind of like telling my story on this one. So I'm excited to see how it connects with people and see how it goes overall.
BET: What is your creative process like when you go to record?
Bloody Civilian: I'll say my process is very, without all the fancy equipment, my process is very on my own. It's not very timed, it's not very consistent. It's just on its own. It's a joke I make: songs literally just kind of dropped in my mind. I don't really start with a beat or anything. I kind of start with an idea on a concept in my mind or a lyric, and then as it just repeats, it just keeps going on and on in my head until it develops itself enough for me to put a few things down in steps. So yeah, my process is always very random, very inspiration based, like I could be out and I get inspired very easily from simply living my life, which is something that I enjoy doing very much.