Black Unemployment Ticked Up in July
The Black unemployment rate in July rose from 10.7 percent in June to 11.5 percent.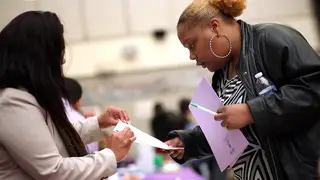 After three months of decline, African-American employment in July rose to 11.4 percent from 10.7 percent in June, according to figures released by the U.S. Labor Department. The national unemployment rate also ticked up slightly from 6.1 percent to 6.2 percent.
The economy added just 209,000 jobs, compared to 288,000 in June. ADP, in its monthly report on employment trends, had predicted 218,000 new jobs. Although today's number is weaker than economists had anticipated, it's still a continuation of six months of solid job gains.
"The July employment gain was softer than June, but remains consistent with a steadily improving job market," said Moody's Analytics chief economist Mark Zandi, who helps prepare the ADP report. "At the current pace of job growth unemployment will quickly decline. Layoffs are still receding and hiring and job openings are picking up. If current trends continue, the economy will return to full employment by late 2016."
BET National News - Keep up to date with breaking news stories from around the nation, including headlines from the hip hop and entertainment world. Click here to subscribe to our newsletter. 
 (Photo: Justin Sullivan/Getty Images)