Black Music Month: 10 Songs That Defined The 1990s
From 2Pac to Aaliyah, these artists shaped the decade.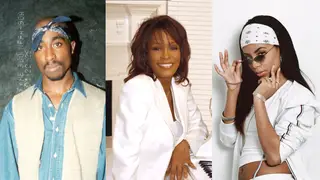 The 1990s was a transformative decade in the music industry, marked by the emergence of various genres and the rise of incredibly talented artists. From the poignant and politically charged verses of 2Pac to the soul-stirring melodies of Whitney Houston and the mesmerizing R&B grooves of Aaliyah, the era was defined by a diverse range of musical offerings. This was the last decades before MP3s, downloading and streaming.
Join us as we delve into ten influential songs that encapsulate the essence of the 1990s. Prepare to be transported back in time as we explore these iconic tracks that continue to resonate with listeners today.
"Poison" — Bell, Biv, DeVoe, 1990

"Never trust a big butt and a smile..." is probably one of the most iconic lyrics of this decade. "Poison" became one of the most successful songs of 1990 and the video was in constant rotation on MTV. Sampled and referenced repeatedly since its release, the song was even listed at the Number 2 spot on Billboard's list of the greatest New Jack Swing songs of all time.

"Summertime" — DJ Jazzy Jeff & The Fresh Prince, 1991

Produced by Hula and  K. Fingers, Fresh Prince (Will Smith)  and DJ Jazzy Jeff  (Jeffrey Townes) effortlessly brought to life the fun nostalgic summer days in Black neighborhoods across America. The song reached No. 4 on the Billboard Hot 100, stayed at No. 1 on the R&B / Hip-Hop U.S. charts for a week, and won a Grammy for Best Rap Performance by a Duo or Group in 1992.

"I Will Always Love You"— Whitney Houston, 1992

One of the best-selling singles by a female artist, Whitney Houston's cover of Dolly Parton's "I Will Always Love You" from The Bodyguard soundtrack is a classic. The song topped the Billboard Hot 100 for 14 consecutive weeks, won Record of the Year and Best Female Pop Vocal Performance at the 1994 Grammys, and in 2020, was selected by the Library of Congress for preservation on the National Recording Registry.

"Weak" — SWV, 1993

Arguably their most famous song, SWV's third single from their debut album was written by Brian Alexander Morgan. "Weak" portrays the emotion of falling in love for the first time. The single topped the Billboard Hot 100 and R&B charts for two weeks, sold over 1 million copies, landed at No. 72 on Billboard's list of 100 Greatest Girl Group Songs of All Time and was been certified platinum by the Recording Industry Association of America (RIAA).

"Waterfalls" — TLC, 1994

This third single from their sophomore album was TLC's resounding vessel of awareness. With a  haunting video as accompaniment, "Waterfalls" continues to linger in our cultural psyche. One of the first songs to directly address HIV/AIDS, "Waterfalls" became a staple on MTV, and spent seven weeks at No. 1 on the Billboard Hot 100.

"Fantasy Remix" — Mariah Carey, 1995

For Mariah Carey, whose prior releases were labeled as pop or adult contemporary, this remix with Ol' Dirty Bastard would prove to be a landmark move in popular music, giving way to such artists as Christina Aguilera, Britney Spears, and Ariana Grande, who would go on to merge pop and hip-hop successfully. The track reached No. 1 on Billboard's Hot 100.

"Mo Money, Mo Problems" — The Notorious B.I.G., 1997

Breakout hit "Mo Money Mo Problems," featuring Diddy and Mase, elevated all concepts of what hip-hop could be while generating a new sound and image that many would then follow. From the Diana Ross pop-friendly "I'm Coming Out" sample, to Kelly Price's incomparable voice on the hook and chorus and the bullseye-hitting lyrics that have been sampled and reframed by everyone from Drake to Fabolous, Biggie's posthumous masterpiece is one for the decade's musical time capsule. It peaked at #1 on the Billboard Hot 100 and gave Biggie true life after death.

"Doo Wop (That Thing)" — Lauryn Hill, 1998

"Doo Wop," released as the first single from Lauryn Hill's  debut solo album,  carefully dissects societal mores, and how to avoid being exploited by the opposite sex for "that thing." The Billboard Hot 100 No. 1 hit garnered two Grammys, for Best R&B Song, and Best Female R&B Vocal Performance.

"Keep Ya Head Up" — Tupac, 1993

"Keep Ya Head Up" has become one of Tupac Shakur's most quoted and well-known songs. Featuring R&B singer Dave Hollister on the chorus, Pac created a masterpiece that remains relevant decades after its release. The song peaked at No. 12 on the Billboard Hot 100, No. 7 on the R&B/Hip Hop charts, and holds a spot on the Rock and Roll Hall of Fame's list of Songs That Shaped Rock.

"Are You That Somebody" — Aaliyah, 1998

The genius of Timbaland's production and Aaliyah's sensual vocal performance, with assistance from Static Major, produced one of the best R&B/Pop songs of the late '90s. Marking the beginning of a sonic transition for the songstress, the single, featured on the Dr. Doolittle soundtrack,  and known for its trip-hop-inspired production and memorable choreography, has become a part of baby girl's lasting legacy. It peaked at No. 21 on Billboard's Hot 100 and ranked Number 24 on Rolling Stone's 50 Best Songs of the '90s.