Justin Bieber's Fans Yanked His Pants Down and We Saw More Than We Wanted To
Booty and a beat.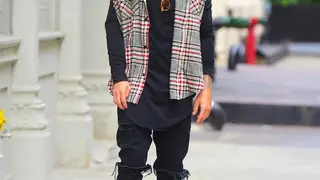 It's no secret that Justin Bieber's erratic Belieber fanbase is capable of some pretty psycho things, but their latest stunt in Prague takes crazy to new levels. 
The 22-year-old pop crooner was spotted in the Czech Republic city leaving a store when he was swarmed by crazed fans. By the looks of the hoodie he had snatched down over his face, it was pretty obvious that he knew what he was in for. But even he might not have expected that, as he and security shuffled through the screaming fans, a pair of them would get their hands on his pants and expose his bare buttocks.
Such a bold act from fans could be the withdrawal effects of a Justin Bieber-less Instagram, effective since August 2016. The violation came shortly after his fans attacked his latest girlfriend, Sofia Richie, and went on digital attack mode toward the 17-year-old daughter of R&B and pop notable Lionel Richie. And matters haven't seemed to improve much when it comes to his frustration with the relentless Beliebers, with the star throwing down his mic and storming off stage in October.
Welp. If they weren't before, Bieber fans have definitely become a pain in the butt for him now.