From Eddie Long to Kim Burrell: Why Millennials Need to Abandon the Church
Homophobia, sexual assault and a crisis of faith.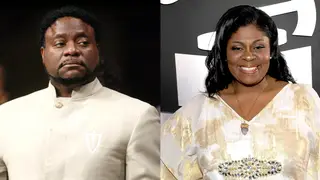 In recent years, church attendance by millennials have been on the decline. Studies show that America has dropped to only 70 percent Christian while non-believer rates are rising. This is no surprise to me. At 25 years old, I can honestly say that I don't plan on returning to the church. The concept of organized religion is deeply problematic and dangerous to my existence as an openly gay Black man from Houston.
I was once a victim of spiritual violence in the church. Sitting in an aisle and hearing a preacher tell me I would burn in hell and that my entire life is not worth continuing was traumatizing. Empathy and compassion were virtues that are often spoken of in Christ, but not in the congregation. I would see LGBTQ youth shunned and abandoned by their families later collapse into deep depressions. Why would followers of God's teachings leave vulnerable children out to die? Isn't the church supposed to be a place for support and healing rather than fear and shaming?
As I became more comfortable and enlightened on my sexual orientation and gender expression, I realized that poverty played a role in the misteachings and miseducation of the church. For my family, the church was a sacred place to avoid the influence of worldly things. In this space — politics, systemic oppression and personal stress were allegedly lifted off of you through prayer and forgiveness. But instead, it was the opposite. A church would "turn up" when a politician cut a check. Money always was the true ruler. The discrepancies of organized religion taught me that hypocrisy was the name of the game in a place where imperfect people had holier than thou egos.
Such was the case for Kim Burrell and the late Bishop Eddie Long. Both religious powerhouses in the Black church, Burrell and Long had the influence to garner large profits from congregations and corporate interests through the name of the Lord. As a Houston native that grew up COGIC, Burrell was royalty. Her music gave me and my fellow gay choir friends life. We loved Burrell because she could sing with the greats like Whitney and still maintain a sense of pride in her faith. When she sang on Frank Ocean's last album, I felt that she was an ally who understood the struggle many LGBTQ members of the church endured. I thought it was her subtle way of telling us she was here for us. But when that Facebook Live video leaked of her calling same-gender loving people "perverted" and condemning us with derogatory references, I felt betrayed. I was one of the first on social media to demand that she be ousted from appearing on Ellen Degeneres's show. It was a bittersweet moment to see a gospel artist I once respected now get dejected from mainstream visibility based on her backsliding.
The late Bishop Eddie Long was a different story. From day one, Long made his condemnation of LGBTQ people public and visceral. He used church money to lead marches to condemn the queer community, who help to uplift the church. Long perpetuated an act of spiritual violence — he was publicly shaming Black gay men in Atlanta, a city with high HIV rates and rising cases of LGBTQ youth homelessness. He spoke of death and damnation into the lives of innocent people as he himself had potential secrets of his own. When a sea of allegations came pouring out about Long using his wealth from the ministry to coerce sex with young adult males (although these accusations were longtime rumors all over Atlanta for years), I was completely disgusted. Long was the Black version of Ted Haggard and it began to make sense why he spent his career bashing LGBTQ people in the church. I expected the Black church to come together and have an honest conversation about homophobia. That didn't happen. The congregation denied the countless allegations, stood by Long's side and continued to shame those afflicted. When he passed away this week, I couldn't remain silent as others attempted to sanitize his hatred. I didn't just blame Long, but the overall positioning of the church in general. They were complicit with inflicting spiritual violence. I refused to remain a victim any longer.
I officially left the church two years ago. Now, I loosely identify as a deist. I believe in a higher being, but I don't see their role as dominate in our world as much as others within an organized religion would imagine. I can no longer endorse an ideology that perpetuates death and destruction on me for being something that I was born as. "Hate the sin, not the sinner," some church folks like to tell me as their cheap way of offering compassion. I don't believe being gay is a sin or a choice. "It's spiritual warfare," some of these church folks have argued. Warfare for who? I'm not battling anything. I love myself and I am comfortable in my skin. However, what is spiritual warfare are places of worship not evolving with their faith.
This isn't just an LGBTQ issue, but a generational one. Many of my fellow straight brothers and sisters of the church, who are also the sons and daughters of ministers, are becoming turned off by the division. Most millennials (even young Republicans) live in a world where we believe sexual orientation has nothing to do with the content of one's character. Although we don't completely agree on everything, millennials are more socially progressive than the generation before them. Those who are allies of their LGBTQ friends and family hate being told they have to choose between their faith and the support of their loved ones. The "either or" scenario is a dangerous dichotomy that is forcing millennials out of the church.

Pence, who considers himself a devout Christian, believes in LGBTQ conversion clinics and Eddie Long advocated for "sexual reorientation" therapy. Trump is endorsed by the Ku Klux Klan. As a millennial, there is no way I can subscribe to the notion that an institution that claims itself to be a place of faith and compassion could ever vouch for individuals backed by hate groups.
I can't wait for the church to change. I will no longer waste my time explaining why my Black gay life should matter to Black churches. The church has proven repeatedly that it's only committed to saving and healing some lives, not all of them. Too many LGBTQ people of color have committed suicide, been forced into poverty and remain victimized by the spiritual abuse and manipulation of clergy. Millennials should not continue a death sentence that is masked by faith. It's time to liberate ourselves outside of the pain that has become the church and encourage the generation after us to never use the name of Jesus as a tool of oppression.
Watch the BET.com original documentary Holler If You Hear Me: Black and Gay In the Church above.
The views expressed here are solely of the author and not BET.com.