Black Unemployment Rate Spiked to 13.5 Percent in May
The Black unemployment rate for May rose to 13.5 percent and the overall unemployment rate increased to 7.6 percent.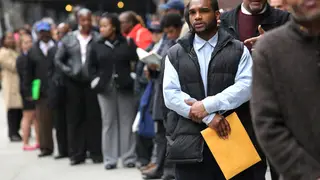 The African-American unemployment rate increased from 13.2 percent to 13.5 percent in May, following two months of decline. The national unemployment rate also rose from 7.5 percent to 7.6 percent.
The economy added 175,000 non-farm jobs in May, which was better than the 135,000 jobs that ADP had predicted in its monthly report.
In the week ending June 1, 346,000 people filed first-time claims for unemployment insurance, a decrease of 11,000 from the previous week's 357,000, the U.S. Labor Department reported Thursday. In addition, the total number of people filing initial claims for state unemployment benefits for the week ending June 1 fell by 27,102 to 293,021. In 2012, there were 324,000 initial claims during the comparable week.
Still, most would like to see hiring move at a faster pace. According to Mark Zandi, chief economist at Moody's Analytics, which co-produces the report, job growth has slowed since the beginning of the year and is being felt by all but the largest corporations.
"The softer job market this spring is largely due to significant fiscal drag from tax increases and government spending cuts," he said.
Government spending cuts are impacting African-Americans in various ways, from jobs, including furloughs enforced due to the sequester, to safety-net and education programs. As a result, the Black unemployment rate continues to be nearly twice as high as the overall rate.
Rep. Marcia Fudge, who chairs the Congressional Black Caucus, also blamed the across-the-board federal budget cuts for higher jobless rates, which she said threaten "our social safety net by ending unemployment benefits and workforce development programs," while 2.5 million African-Americans are out of work.
"It is past time for Congress to end its political posturing. We must come to the table and agree on a responsible budget that restores faith in our economy and improves our fiscal future. The American people need and deserve more," she said.
House Majority Leader Eric Cantor once again used the jobs report to tout the GOP's SKILLS Act, which he said would "provide people with the skills and training they need to compete for unfilled jobs" and a Keystone XL Pipeline bill, "which would bring immediate jobs and economic growth" but is being stalled by the Obama administration.
But according to Robert L. Johnson, chairman of the RLJ Companies and founder of Black Entertainment Television, private businesses and corporations also could make a significant dent in the Black unemployment rate.
"Companies can make a difference by voluntarily implementing procedures that will further their commitment to reduce the employment disparity among African-Americans," Johnson said. "And in doing so, we can demonstrate the fact that talented African-Americans, if given the opportunity, can succeed at the highest levels, and we will close the employment gap between Black and white Americans."
BET National News - Keep up to date with breaking news stories from around the nation, including headlines from the hip hop and entertainment world. Click here to subscribe to our newsletter. 
(Photo: John Moore/Getty Images)