Ex-NBA Star J.R. Smith Going Back To School; Hopes To Join North Carolina A&T's Golf Team
The two time NBA champion says fellow retiree Ray Allen talked to him about completing his education.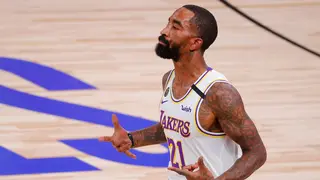 Retired NBA star J.R. Smith is announcing his return to college and says he would love to play golf for the HBCU he enrolled in.
Smith, who won two separate championship rings with the Cleveland Cavaliers and L.A. Lakers, is reportedly enrolling at North Carolina A&T University to pursue a degree in liberal studies.
Speaking with Greensboro, N.C., local station WFMY, Smith explained his decision to pursue an education at this point in his post-NBA career.
"One of the best liberal studies programs is at A&T and it just so happens I've got deep roots in Carolina with Chris Paul, (and brother) C.J. Paul," he told the station, adding that fellow NBA retiree Ray Allen had a role in convincing him to go back to school. "It's been a long time since I've been in school. I'm excited though. It's a new challenge. I've got nothing but free time right now. Between raising kids and going to school, my schedule is pretty full."
Smith had committed to the University of North Carolina while he was in high school, but decided to forgo college basketball and declare for the 2004 NBA Draft.
Smith also expounded on his love for golf, a game he learned from Basketball Hall of Famer Moses Malone. 
"Golf is one of those games that can have you feeling really high or it can bring you down to your knees and humble you," the 35-year-old said. "To have that feeling and knowing that all of the game is pretty much on my own hands and I don't have to worry about teammates to pass the ball to, receiving passes and playing defense — I can just play my game and have fun."
Complex reports that Smith said he's already close with a few people on the PGA Tour, including Rory McIlroy and Bubba Watson.