Former NYC Councilman Responds to Pregnant Woman Choked by NYPD
Former councilman wants "immediate firing" as a response to NYPD chokehold cases.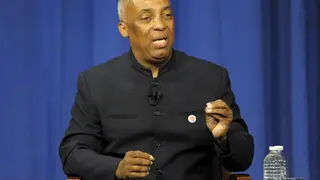 Former Brooklyn councilman Charles Barron spoke out on Monday warning New York City about a possible violent outcry following the NYPD's use of illegal chokeholds, reports the New York Observer.
"I don't care what anyone says, there is a powder keg in this town. Don't blame me, the social forecaster, when there is an explosion in this town," said Barron, a current candidate for the New York state assembly.

During a press conference, Barron referred to a series of recent incidents in which NYPD officers have been seen allegedly using an illegal maneuver to subdue a civilian. This past Saturday, a pregnant woman named Rosan Miller was placed in a chokehold after police asked her to move her barbecue grill from in front of her home in Brooklyn. She was arrested and charged with disorderly conduct.
Barron called for harsher punishments for guilty officers, stating that loss of vacation time was the worst punishment officers received. The NYPD currently has nine official chokehold cases (though more than 1,000 have been reported to the Civilian Complaint Review Board).
"We haven't been able to get many convictions because of technicalities," said his wife and New York City councilwoman Inez Barron. "We want to change the language of the state law so that we can eliminate those loopholes."
BET National News - Keep up to date with breaking news stories from around the nation, including headlines from the hip hop and entertainment world. Click here to subscribe to our newsletter.  
(Photo: Audrey C. Tiernan-Pool/Getty Images)