Money Monday: How to Begin Repaying Your Student Loans
In this week's Money Monday, BET.com offers advice on how to begin repaying your student loans.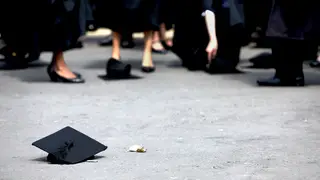 For the first time, in 2011, student loan debt outpaced credit card debt in the United States.
Outstanding student loan debt exceeds $1 trillion and experts predict the numbers to keep growing. With numerous college students and graduate students entering the real world in massive debt, a likely question to ask is, "where do I start to pay off my student loans?"
In an effort to answer that question, BET.com breaks down tips of how to begin repaying your debt:
1) Know Who You Owe Money To
The organization that handles the billing for your loan will give you information about your repayment start date. If you are not sure who your loan servicer is, the National Student Loan Data System can provide that information and give you a review of your financial aid.
To find out who your loan servicer is, visit here, or call the Federal Student Aid Information Center at 1-800-4-FED-AID (1-800-433-3243; TTY 1-800-730-8913).
2) Check to See If You Can Lower Your Interest Rate
In some cases you may be able to reduce your interest rate by signing up for electronic debiting. According to Federal Student Aid, through electronic payment, "you can choose to receive your student loan statement electronically, make a student loan payment online through electronic debiting, or schedule a recurring electronic debit to pay your bill."
Dependent on your loan holder, your interest rate may be lowered as an incentive for paying your debt with electronic debiting.
To sign up for electronic debit as a Direct Loan and FFEL Borrower, contact your loan servicer.
To sign up for electronic debit as a Perkins Loan Borrower, contact the school that holds your loan to see if it offers this service.
3) Take Advantage of Your Grace Period
After you graduate, leave from school or drop below half-time enrollment, you have a period of time before you have to begin your repayment. Take this time to get your finances in order to begin repayment of your loans.
−Six months for a Federal Stafford Loan (Direct Loan Program or Federal Family Education Loan (FFEL) Program)
−Nine months for Federal Perkins Loans
4) Choose the Repayment Plan That Is Appropriate for You
According to federal student aid, there are several repayment plans that are designed to meet different needs of borrowers. The length of time you repay your loans and the amount you pay varies depending on the plan you choose.
Visit Repayment Plans and Calculators for more information about the various repayment plans and to calculate your estimated repayment amount under each of the different plans.
5) Work for a Public Service Employee? Consider Having Your Loans Forgiven
If you are an employee of a public service organization or company, under the Public Service Loan Forgiveness Program, you may have the option of having your loans forgiven if you make 120 on-time monthly payments under certain repayment plans after October 1, 2007.
Repaying student loans isn't the end of the world. Organize your finances today.
This article has been prepared for informational purposes only. The accuracy and completeness of this information is not guaranteed and is subject to change. Since each individual's financial situation is unique, you need to review your financial objectives to determine which approaches might work best for you.
BET National News - Keep up to date with breaking news stories from around the nation, including headlines from the hip hop and entertainment world.
 (Photo: Christopher Furlong/Getty Images)