UPDATE: Kevin Hart's Wife Eniko Parrish Issues Statement About His Condition Following Horrific Car Crash
The actor was hospitalized on Sunday.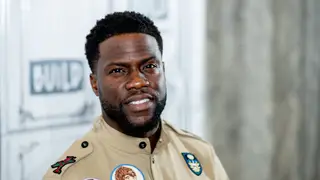 For the first time since Kevin Hart's car accident, the public is learning directly from his family about the actor/comedian's condition.
Eniko Parrish, Hart's wife, told TMZ reporters just hours ago that her husband is doing "great" and is expected to make a full recovery after he was involved in a serious vehicle crash that totaled his Plymouth Barracuda.
"He's gonna be just fine. He's good, everybody's good. Thank god," she said outside of the hospital. "He's fine, he's awake." 
Hart is reportedly recovering after undergoing surgery. He suffered "serious" back injuries as a result of the accident.
Kevin Hart may have sustained major back injuries during a car accident that happened early Sunday (September 1), according to sources.
According to The Blast, the actor/comedian is still being treated at a Los Angeles hospital and may need back surgery. The outlet also reports that his ailment is "not a spinal cord injury" and he is "able to walk and move his extremities."
At around 1 a.m. on Sunday, Kevin Hart was out riding around in his 1970 Plymouth Barracuda with driver Jared Black and passenger Rachel Broxterman. According to reports, Black lost control of the car while turning onto Mulholland Highway and rolled the vehicle into a ditch.
Hart and Black were then taken to nearby hospitals while Broxterman suffered only minor injuries.
The impact of the crash crushed the roof of the vehicle and it was later taken off to release all of the passengers.
We are wishing for Hart's speedy recovery.
Kevin Hart was reportedly involved in a car crash early Sunday morning (September 1).
According to TMZ, the 40-year-old actor/comedian suffered "major back injuries" after his Plymouth Barracuda veered off Mulholland Highway and landed in a ditch in Malibu, California. 
A police report, obtained by Us Weekly, states that Hart "left the scene to his nearby residence to get medical attention." The roof of his vehicle was reportedly completely torn off. Hart was not driving and the driver of the vehicle was not under the influence of alcohol, according to the report.
Hart and the driver both suffered injuries while the third person in the car, a woman, was not injured. After making his way to his home, Hart reportedly sought treatment at a local hospital.
It isn't clear as to how extensive Kevin Hart's injuries are at this moment. Prior to the accident, he posted a video on his Instagram Story of himself in his car, screeching its tires.
Hart bought the car back in July as a gift to himself for his 40th birthday.
See video of the crash scene below.