Tamera Mowry-Housley Made a Promise When It Comes to Discussing Her White Husband
The actress speaks out about haters and trolls.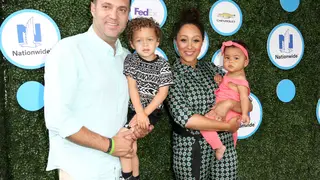 Tamera Mowry-Housley is getting tired of constantly having to respond to the criticism she and her husband receive for being in an interracial marriage. So she's taking a new approach to dealing with the haters.
While she recently admitted that the hate "is even worse now," she is now expounding on that, adding that she refuses to give any "attention to naysayers." Speaking with Hollywood Life, the actress opened up about her decision to no longer address those hating on her life.
"I have made a conscious effort now to realize that we have more positive people towards us than negative," she said. "I don't want to give any more attention to the naysayers. I feel like, more than ever, couples are mixing, and that's a beautiful thing. The only way we're going to move ahead and forward is if we ignore the haters."
She continued, "Right now, I've made that conscious effort to do that. I don't want to give them any more attention. The moment I do that, they don't have any power."
This comes on the heels of a recent interview the The Real co-host did with Momtastic where she explained that the racial tensions she saw in her own life were at an all-time high due to America's current political climate.
"When we first came out publicly as a couple 12 years ago, I remember a few negative comments, such as, 'Never expected her to be with him!,'" she said. "But I never expected it to reach this degree of criticism as I got older."
More Tamera news in the BET Breaks video, above.