Notorious B.I.G. And Jam Master Jay's Daughters To Open Pizzeria In L.A.
They're bringing an East Coast flare to the West Coast.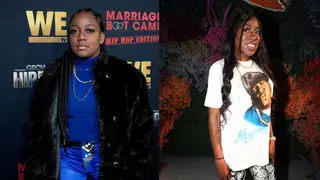 The daughters of The Notorious B.I.G. and Jam Master Jay are teaming up to bring a New York-style pizzeria to Los Angeles.
Biggie's daughter T'yanna Wallace and Jay's daughter Tyra Myricks are opening Juicy Pizza in L.A. where they will be serving more traditional pies like cheese and pepperoni, but also offer Big Apple-inspired 'za like chopped cheese and bacon, egg, and cheese.
"The more I thought about how to bring that New York theme to Los Angeles, I felt, who represents New York more than Biggie Smalls?," Myricks told Business Insider. She also said she felt L.A. lacked good pizza spots.
The business is slated to open on June 12, according to a post on its official Instagram account. The interior will be decorated with quintessential NY mainstays like bodegas, subway cars, and of course, Biggie's hit song "Juicy."
Merchandise from the shop will also be available for purchase on-site. Additionally, there will be a members-only cannabis lounge managed by Black-owned Presidential Cannabis.
Juicy Pizza, located at 615 N La Brea Avenue in Los Angeles, opens for business on July 12.