Calls for Justice or Else! at Million Man March 20th Anniversary
Thousands rally on National Mall.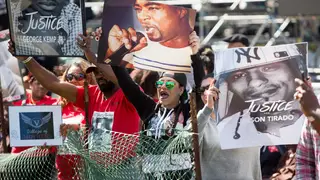 Thousands gathered in our nation's capital on Saturday for a recreation of the history-making Million Man March in 1995. The theme for the event, organized once again by the minister Louis Farrakhan, is "justice or else," with attendees marching in opposition to police brutality against Black citizens.
The protesters were accompanied by several bold-faced names, including J. Cole and Snoop Dogg, who came out to show support for the movement. BET News was on the ground at the Million Man March and spoke to protesters, many of whom traveled from across the country to be there, about why the event is critical for the Black Lives Matter movement.
Watch Million Man March 20th Anniversary Draws Men on a Mission, in the video below.
BET National News - Keep up to date with breaking news stories from around the nation, including headlines from the hip hop and entertainment world.
Photo: Allison Shelley / Getty Images