Lizzo Proved She's 100% That B*tch With Electrifying Medley Of 'Truth Hurts' And 'Good As Hell'
There's only two choices: stan, or stan.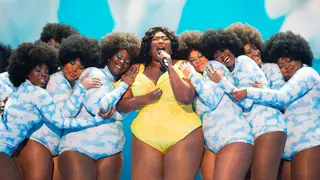 Lizzo kicked off the 2019 MTV VMAs with a flawless medley of her chart-topping hits "Truth Hurts"and "Good As Hell," and the entire Internet is fired up. Within moments of taking the stage, the Michigan-born, Houston-raised rapper, singer and flautist proved exactly why she's 100% That Bitch and "IT" girl of the moment.
Sadly, Lizzo's beloved flute was missing in action but the triple threat proved she's just as versatile without her trusty instrument. 

Serving #BlackGirlMagic and a capella vocals, Lizzo soulfully crooned a few lines of "Truth Hurts" without any backtrack whatsoever, before stripping her cowgirl attire down to a neon canary yellow leotard.

Joined on stage by a cache of boo-tifully gorgeous, entirely female troupe of dancers of all hues and shapes, the ladies delivered on-point choreography without missing a beat. Oh, and did we mention the backdrop was a giant inflatable butt? 

The 31-year-old and her crew then segued into a twerk-fest before she switched things up to her feel-good anthem "Good As Hell," taking us to church as the stage evolved into a hip-hop heaven.

Standing on a makeshift hot pink pulpit, Lizzo paused mid-performance to deliver a beautifully, self-affirmative ode about loving the skin you're in that was pure gospel magic. 

"I'm tired of bullsh*t and I don't have to know your story to know you are tired of the bullsh*t too," Lizzo shouted out as her back-up singers hit high notes that could go toe to toe with the best church choir.

"It's so hard loving yourself in a world that doesn't love you back. Am I right? So I want to take this opportunity right now to just feel good as hell because you deserve to feel good as hell!" she finished as her dancers snatched their wigs off. The moment was a whole mood in and of itself. 

Seriously, Lizzo won the VMAs (at least in our hearts) regardless of how many awards she takes home. The Coconut Oil rapstress had us all feeling good as hell. 

The Internet was getting every inch of its life to rousing set.

Check out the best reactions to Lizzo's performance at the 2019 MTV Video Music Awards below: